Billing and Invoicing Software for Small Businesses - Generate Invoices and Quotes
In this article we will present billing software that you can specifically use as a small business to generate invoices, quotes and manage your cash flow on a day to day. Keeping financial records is one of the most important, yet overlooked tasks by small business owners.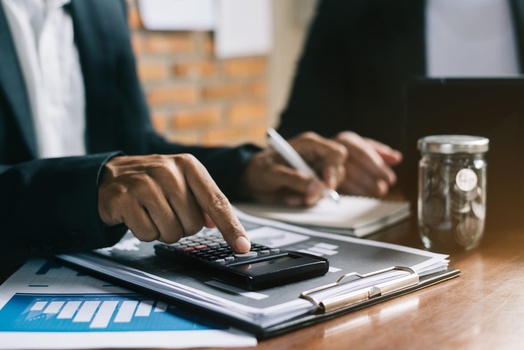 Skhokho was created to be a light-weight invoicing software for small businesses, to allow even non-tech-savvy business owners who are not accountants to get paid faster and keep track of invoices and quotes in one place.
Features a Good Invoicing Software must have
An invoicing software is a software that helps businesses manage and track their expenses and earnings. The software can be used to create and send invoices, track payments, and keep track of expenses for your business. Some of the features that a good invoicing software should have include:
An easy-to-use interface.
A tracking system that can provide details on where the money went.
A system that can automatically generate invoices.
A system that can send invoices to customers automatically.
A system that can keep track of past expenses.
A system that can automatically send reminders to customers to pay their bills.
A system that can generate reports on expenses.
Why you need a good Invoice Billing Software for your Business
Small businesses, in particular, face a number of challenges when it comes to billing and invoicing.
For one, many small businesses don't have a dedicated billing and invoicing staff.
Second, small businesses may not have the resources to generate accurate and timely invoices.
Third, small businesses may not have the time or knowledge to create invoices from scratch to get paid faster.
Finally, small businesses may not have the technology to manage and operate their billing and invoicing systems.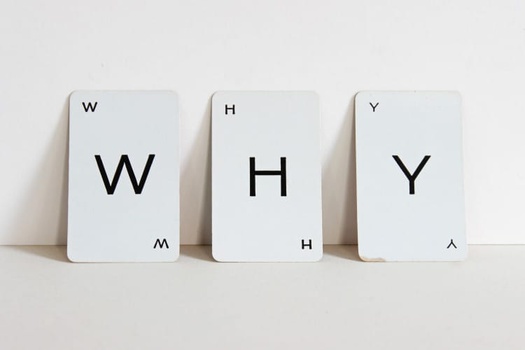 Cloud-based invoice software systems such as Skhokho Business Management Software can solve many of these challenges for your business. Cloud-based systems are easy to use and manage. They also offer benefits such as:
Rapid invoicing and billing: With a cloud-based system, you can quickly generate and send invoices to your customers and get paid.
Increased efficiency and accuracy: Cloud-based systems automatically collect and track customer data. This helps you to generate accurate invoices quickly and easily for your business.
Reduced expenses: With a cloud-based system, you can save money on the costs of operating your billing and invoicing system.
Increased customer satisfaction: Customers appreciate the convenience and ease of using a cloud-based system.
What is the best invoicing software for small business you can find?
When looking for a free invoicing and billing software for your business, there are a few key things to consider.
1. The Invoicing Software Features
Compare the features that are being offered to what you actually need. When it comes to software, sometimes less is more. If you are a business that only needs to send out bills and get paid faster, there is no need to get a bulky Software with 101 features, that still requires your team to attend another 2 week training just to learn how to use the software.
2. Navigation and ease of use
Your accounting software should be intuitive, easy to navigate and have a user-friendly interface. This way you can spend more time doing what you do best - running your business.
3. Cost and Affordability
One of the most important factors to consider is the cost of the software. Make sure to find a software that you can affordable and fits your budget.
4. Automation
Look out for automation capabilities, you will need invoicing software that can send recurring invoices and reminders to your clients on autopilot?
This will save you time and money in the long run. You need to be able to create professional invoices on the go, email invoices to your customers and keep track of invoice status, paid invoices, outstanding invoices -- all in one dashboard and reporting tool.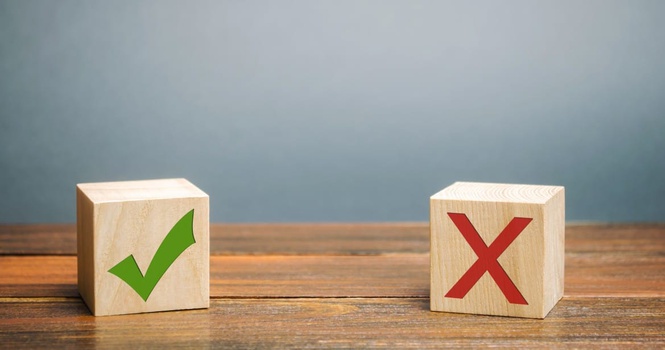 5. Invoice Billing Analytics
Search for accounting software that allows you to set-up accurate, real-time cash-flow reports that you can share with your team and use to track money going in and money going out of your business.
Financial reports can be used to:
Analyse the sources of income for your business
Share with advisors and mentors to help you understand your business cash position, strengths and weaknesses
Set up goals and targets (Such as OKRs) to track financial performance
Keep historical records of your finances to use when applying for funding, preparing business valuation documents, etc
Get started with Skhokho All in One Billing and Invoicing Software
Skhokho is an all in one accounting software that was created specifically for small businesses, with to help them manage day to day business administration functions, which include:
Creating a quote
Accept payments online (with integration to payment processing)
Create professional accounting reports
Set up recurring invoices and expenses
Manage cash flow in to your business
Get paid faster when you accept credit cards (with integration to payment processing)
Start with a Full Client Profile - Skhokho Software for Client Profile Management
Your accounting journey with Skhokho invoicing software will begin with creating a client profile. Client profiles are useful for - allowing you to keep track of all the accounting activities that relate to a specific client, you can then relate: (1) Quotes, (2) Invoices, (3) Client contacts, (4) Expenses and other records to that client profile.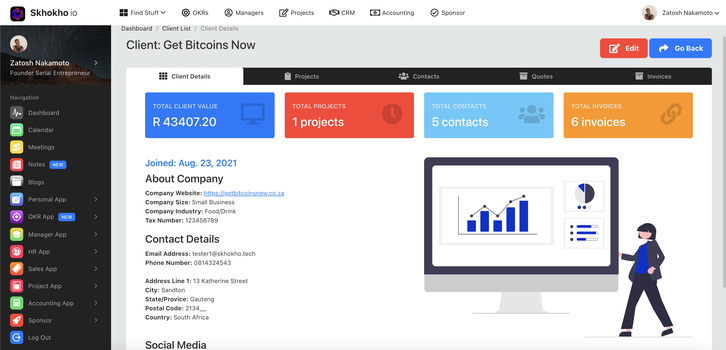 The client profile page also provides one place - to view all your client records and understand: client lifetime value and potential future value.
Create records for your products and services
The next important step is to understand your products and services, associating them to specific sale transactions and invoices.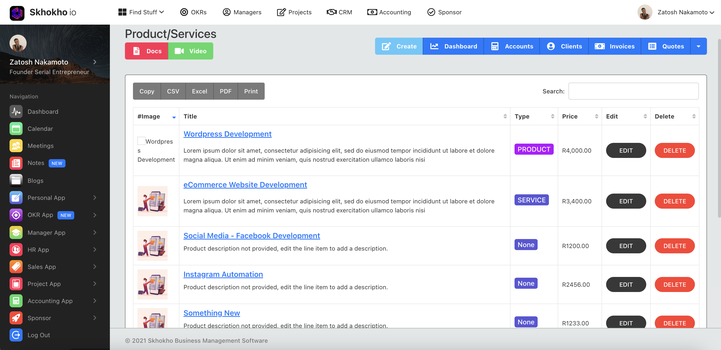 When you sell products or services, it's important to keep track of your sales and invoicing information. This includes recording the products or services sold, the amount paid, and the dates of the transactions.
Skhokho invoicing software automatically creates sales records connected to your products and services and tracks the sales per product or service, allowing you to track sales performance on individual and product category sales.
Create and Send Invoices - associated with specific client records and products/services
When you have entered your client records and products/services - you can create your first invoice by pulling in a client and product to use in the invoice.
Make sure your company information is filled in correctly in the Accounting Settings page. This information, together with your company logo will be used on the PDF invoice generated - to make it look professional.
Your clients will love the "client access portal" which is made available with the accounting software - this allows you to send invite links to your clients, allowing them to access invoices, project information online at any time.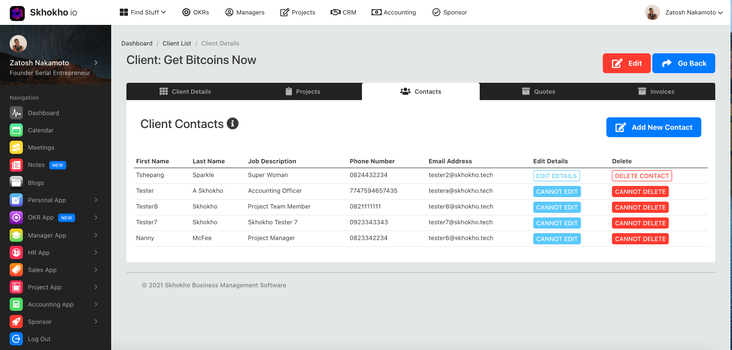 This means, your clients can always have access to current and historical invoices on the access portal on the go. This is a useful feature for any accounting software to have.
Send payment reminders for your invoice for free
You can set up and send payment reminders on schedule to your clients once you create an invoice, until you mark them as paid. This is an optional functionality that you can choose to disable.
Create recurring invoices
Many small businesses have the same recurring invoice that is sent out every month. You can create the invoice once, and set it up to recur monthly. Every month a new copy of the same invoice will be re-created and emailed directly to your clients for attention.
Best free invoice software for all-in-one invoicing and accounting for small businesses
In addition to Skhokho being an invoicing and billing software - It is also a full business management software with the following features:
Project Management - Task and Milestone Management
Client records and profile
Sals and CRM
Human Resource Management
Objective Key Results (OKRs)
Meeting and Scheduling Software
This makes Skhokho the best free all-in-one software for invoicing, accounting and business administration management in general.
Check out Skhokho Free Trial - for 14 days, no credit cards required and make your own decision if Skhokho is the right software for your business.
How to create an invoice using Skhokho Accounting Software
Check out our "how to" video showing you how easy it is to create an invoice using Skhokho accounting software.
Skhokho Free Invoicing software
Get started today, no contracts, no agreements and no waiting periods. Sign up and start issuing your first invoice today and get paid faster with Skhokho free invoicing software.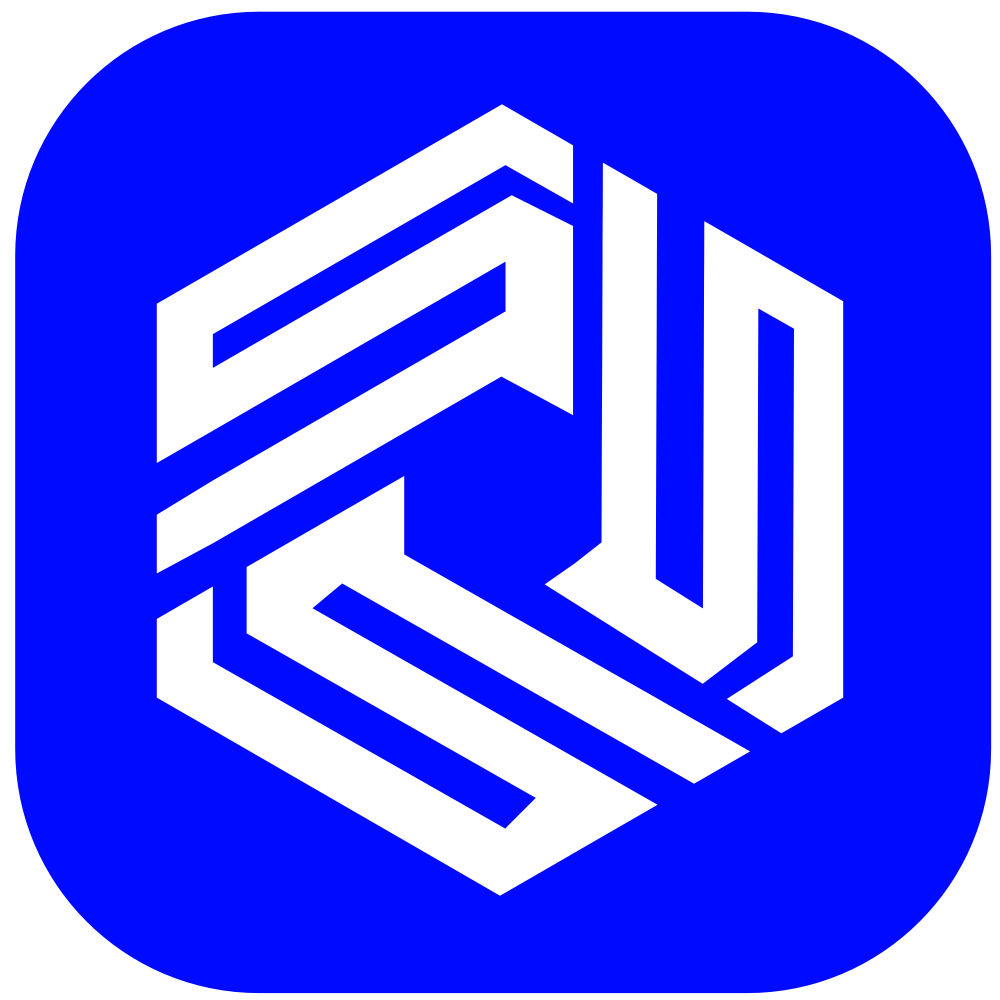 Bertha Kgokong
Published on May 17, 2022