Objective Key Results Software
OKR is a method of setting goals. It helps you set specific, measurable, achievable, relevant and time-bound (SMART) objectives for your team & organisation. It's an effective way to focus on customer engagement by aligning your business strategy with your teams' efforts.
Let Skhokho OKR App help your organisation get closer to achieving its goals, in a collaborative, intelligent and effective way.
Set High Level Objectives
Describe with your team the high level goals you want to achieve within a period of time.
Create Supporting Key Results
Then create 3-5 Key Results that support the high level objectives that have already been set.
Start Free Trial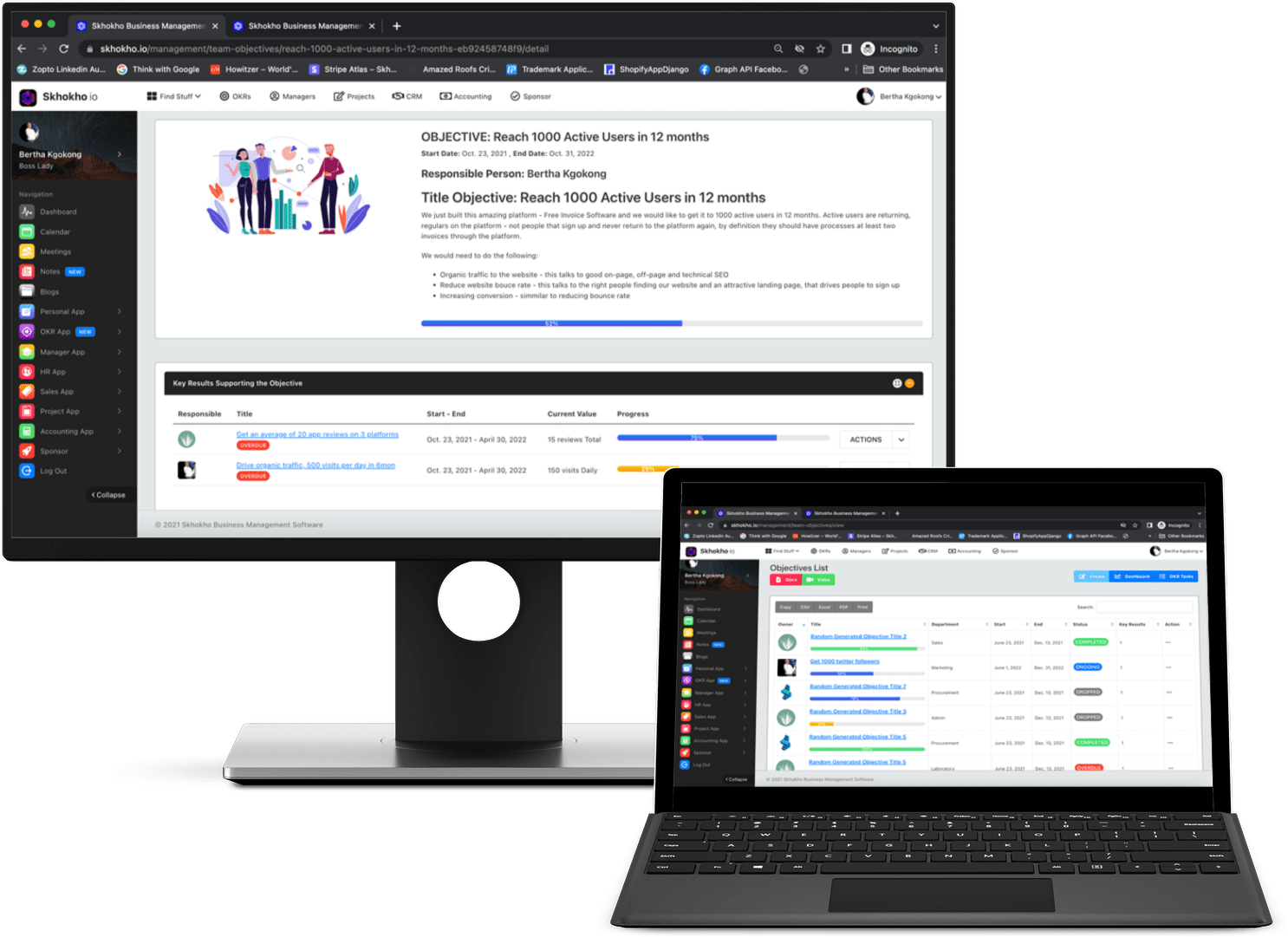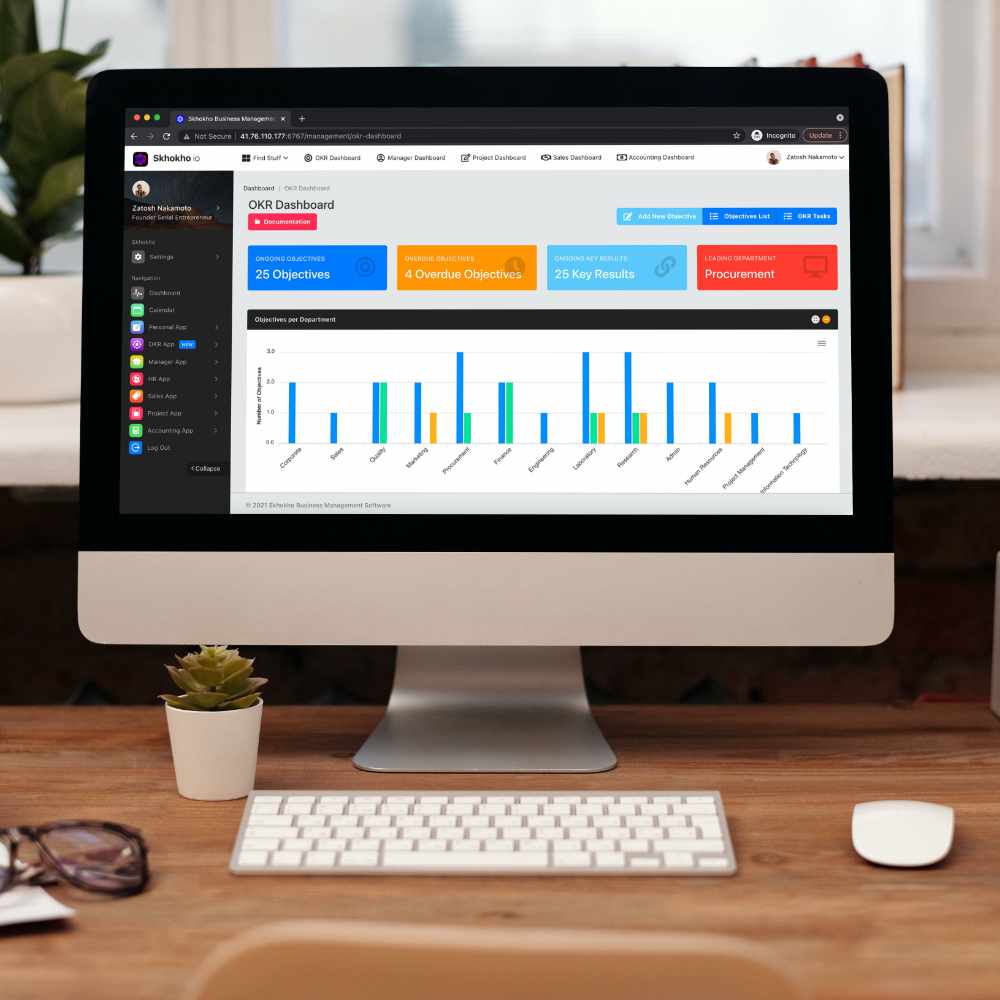 We got accepted in to this accelerator program where Objective Key Results were used to track our progress through the program. I had a chat with Bertha and proposed that she and her team consider incorporating OKR generation and tracking in to Skhoko, a Software we were already using for our internal Human Resource Management. I must say, I was blown away by the outcome, the attention to detail, usability and ease of working with OKRs on Skhokho was just out of this world. This software is worth 10 times more what they charge for it.
Regan Govender
Skhokho OKR - Goal Setting, Management, Implementation Software
OKR is for businesses, organisations and teams that require both lofty goals and targeted strategies to reach them. As goals change so does this software - your targets evolve as your business develops. It's built for all people, including CEOs, managers, marketers, creatives and everyone in between. With Skhokho you can create the best plan possible with 100% of the necessary information now at hand."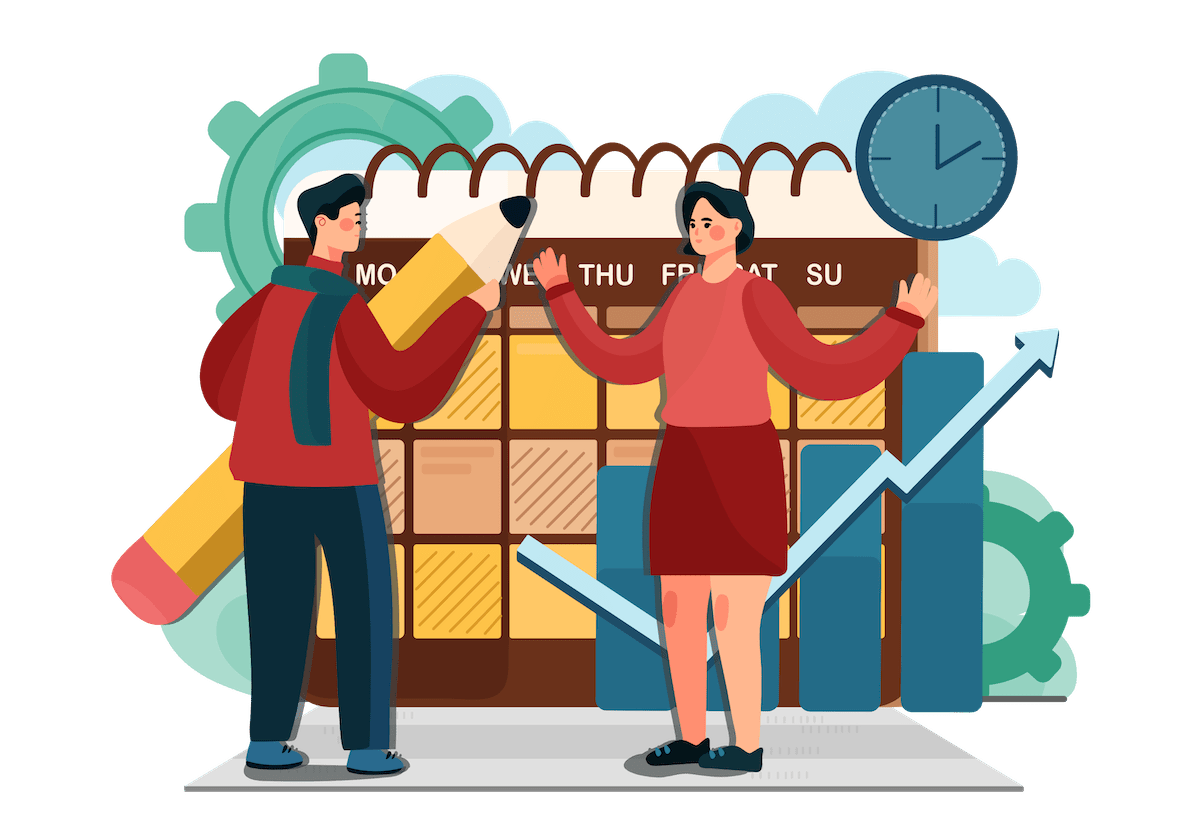 Agile Goal Setting with Objective Key Results
Do you want to be more productive? Do you want your team members to achieve targets faster than ever before while saving time and money? You can start today. Get started with Skhokho Agile Goal Setting by creating objectives and key results (OKRs) for all your employees and teams in the organization. Through Skhokho objective setting software, you can easily create OKRs and share them with everyone in your organization.
Set SMART Goals
Skhokho OKR supports the creation of Specific, Measurable, Achievable, Relevant and Time bound (S.M.A.R.T) Goals. Skhokho is your goal setting partner for creating clear targets for your organisation.
Measure Achievements
One of the most important tasks in Goal setting and tracking is the ability to measure regularly, report and learn from your exercises. With Skhokho you get regular check-ins to report on the progress of your targets.
Key Results are the HOW of Achieving your Objectives
With Skhokho OKR App, you can set up to 5 different Key Results to map the route to get from where you are to where you want to go. Key Results can be represented in numbers, percentages or currencies. They are measurable variables that you can influence to push the needle on your objectives. Each Key Result directly affects the underlying Objective. Skhokho helps you visualise your progress with smart progress charts and plots, to help you achieve your objectives faster. Skhokho also provides easy to ready, clear Objectives and Key Results reports.
Measure and Visualise Progress
Report on the progress of your Key Results on a daily, weekly, monthly or quartely basis, depending on your business and the objective.
Impress your Clients and Partners
Skhokho produces easy to read reports on both the progress of your objectives and key results in PDF formats that you can share.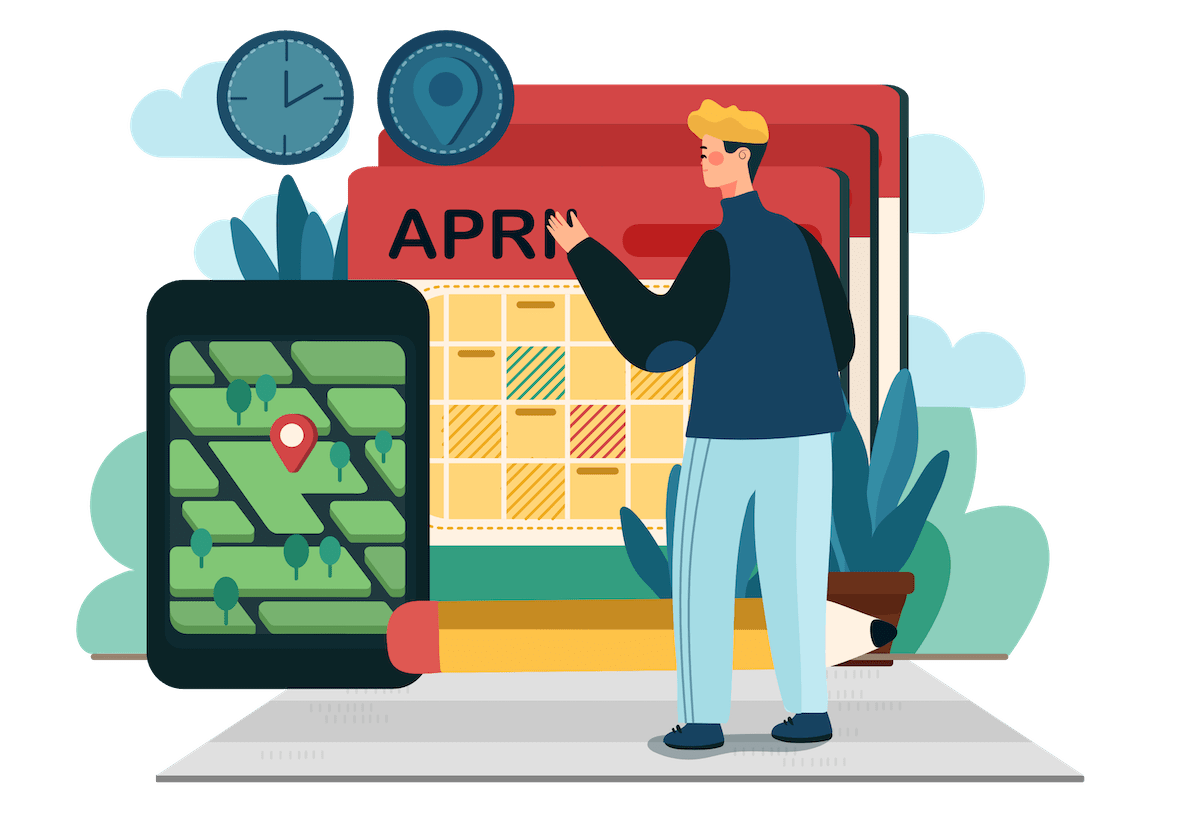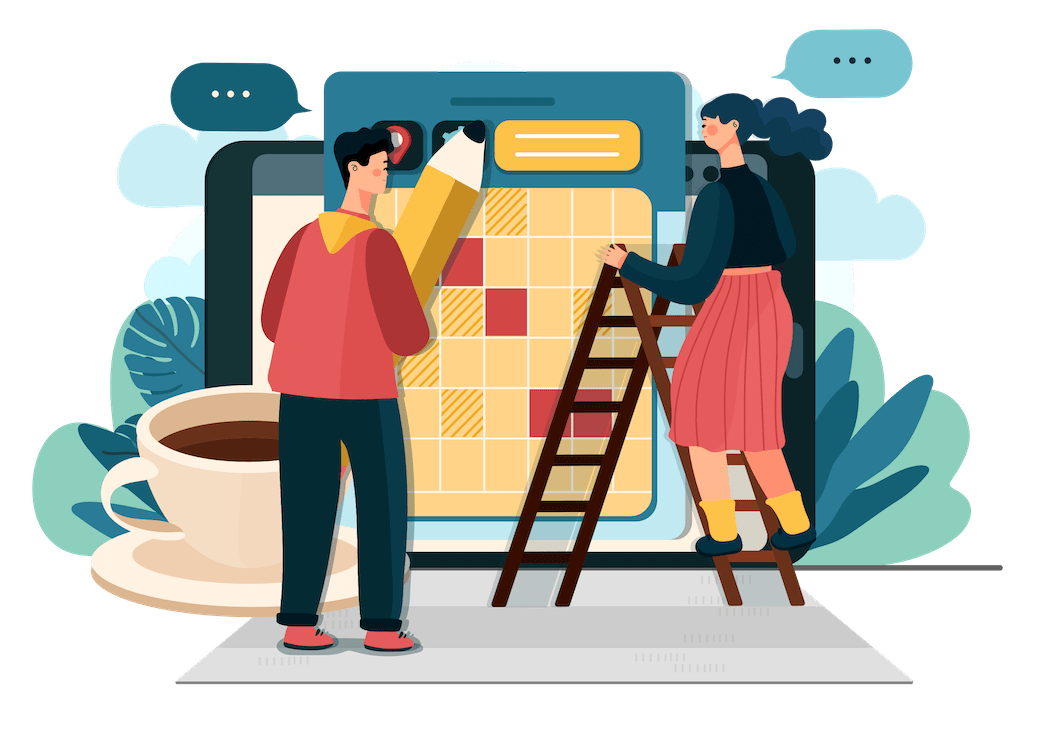 Push your Key Resultswith Goal Task Management
Goals are simmilar to projects, you have a target you want to achieve within a specified amount of time and resources. Just like task management in projects, Skhokho OKR App comes complete with Objective Task Management. An easy way to keep your entire team and organisation as a whole - focused on a single objective. Create tasks that are focused on pushing a Key Result forward, which in turn pushes the needle on the underlying objective.
Task App with a Purpose
Instead on mindlesly performing tasks in an app, let your tasks work towards achieving a common goal with Skhokho OKR Task Management.
Task Reminders and Boards
All the tasks are prominent in the OKR task board, personal task board and in addition Skhokho will send you reminder emails for tasks.
Skhokho comes with full OKR Dashboards for the team
Skhokho OKR dashboard is designed to create a culture of accountability and transparency. It helps you keep track of the progress towards your team's objectives on a real-time basis, so you can stay focused on what matters most.
You can now track your OKRs in a visual format. Never miss any deadline again by using Skhokho.
Get your Business Back on Track
Skhokho Tasks keeps you on track to achieve your goals and helps you focus on the right things at the right time.
Know Exactly what you need to do
Clarify the company's objectives, goals and targets to every team member. Your team will always be clear on the strategic direction of the business.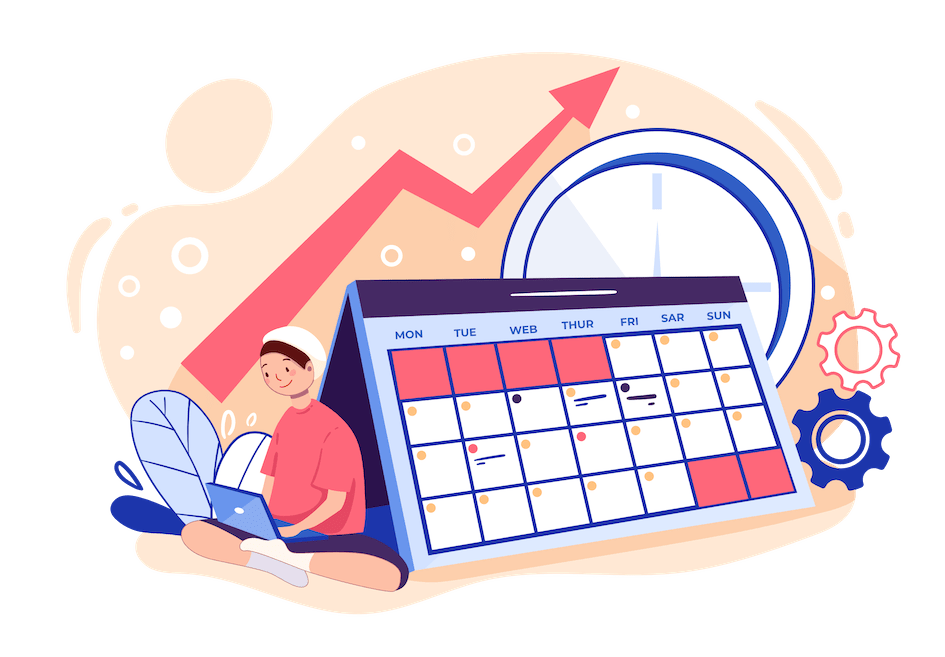 Sticking to your resolutions
The only thing more difficult than changing your New Year's resolutions is sticking with them. Get back on track this year with our goal setting app, to help you finally make measurable progress towards any goal imaginable. You can track all of your company's objectives in one central location and set key results for anyone involved to keep things focused. It doesn't matter if it's a team project or personal resolution; Skhokho will help you stay accountable and get stuff done!
Strategic Team Collaboration
(1) Collaborate on the company objectives that matter most. Run strategic tasks aligned with those goals into their business processes.
(2) Create key results to measure your team's performance on those specific objectives (and never miss another deadline again)! Set due dates and milestones as needed along the way. An easy timeline view also helps you know where everyone is at in relation to achieving their goals at all times.
To get the latest blogs and news emailed directly to your inbox and to stay in touch with our online community and be the first to find out when we have new features and launches:
Subscribe to our Newsletter
Frequently Asked Questions
OKRs stand for Objective Key Results. They are a methodology used to set and measure your strategic goals and targets for your business, organisation, team or personal project. Instead of measuring perfomance, OKRs helps teams to focus on specific targets and objectives. As a results, OKRs are quantitative - measurable and specific. The O - Stands for Objectives, the first step in an OKR process is deciding on key objectives to focus on. Generally it is advised to stick to
5 - 6 objectives for a team
. The idea is to pick a few objectives to focus on rather than chasing all the rabbits.
Once you decide on your main objectives, you then select between 3-5 Key Results per Objective. If Objectives were the location, the Key Results are the "how" or the milestones on a road, leading to the main objectives. The idea is, if you achieve the key results that you have selected - you will most likely, meet your objectives. Key results must direcly influence the objective outcome.
You can complete the following actions on the Skhokho OKR App:
Team Collaboration: Invite your team to collaborate on the app. All the members are connected in one space with the ability to view all the objectives and key results with strict access control.
Set Objectives: You can set high level objectives as described in the point above. Each objective will have a title, description and responsible person. In addition you can include the start and due date for the objective to assist with time-tracking of the progress when you set the Key Results.
Set Key Results: you can then set Key Results connected to the objectives created above. Each key result also has a topic, description and responsible person. Start and due dates are also included. The app allows for max 5 Key results per objective as is in OKR best practice.
Set Key Results Measurements: You can then report on the Key Results regularly with measurements on perfomance and report on the latest measures. You can attach supporting documentation as well to your Key Results.
Reporting: Skhokho allows you to output PDF reports on the Objectives and Key Results separately in a format that can be shared with any interested parties.
Analytics: View progress on OKRs in the OKR dashboard
OKR Tasks: Create tasks for your team to work on achieving the Key Results. See your tasks in a Task Board and get daily reminders on tasks when they are due.
The OKR App is included in the basic package for Skhokho togther with the Human Resources and Manager Apps. The pricing can be found on our
pricing page
here?
We have a 14 day - no strings attached, no credit card required trial, where you can try out all the features of Skhokho and specifically the OKR app for FREE. Decide if you like it, and you would like to continue with it. You can get started with the
Free Trial here
.
Yes, goals and objectives can be measured in spreadsheets and shared across the whole organisation. But a cloud SaaS platform like Skhokho offers the following benefits:
The ablity to access the OKRs in real-time from anywhere in the world as quickly as it takes you to log in to your online profile
Transparency with your whole team, so everyone is focused on the same objectives
Preservation of data, information and knowledge between teams, departments and individuals joining and leaving the organisation
Easier auditability and tracking of documents
Safe storage of your company information, in cloud based secure servers
Smart dashboards and data visualisation
Easy and faster reporting
The entire team knows in real-time the status of every objective, key results and task - day or night as soon as the information is updated, no need to wait for weekly, monthly and qartely reports to know the current state of the business.