A powerful bundle of business management software.
All the Business Management Tools at your fingertips. Created for business owners to help you manage:
🔥 Objective Key Results
🔥 HR and Payroll
🔥 Team tasks and project milestones
🔥 Customer information and profiles
🔥 Client Invoices
🔥 Sales CRM
Start with a 14-day FREE trial - no credit card needed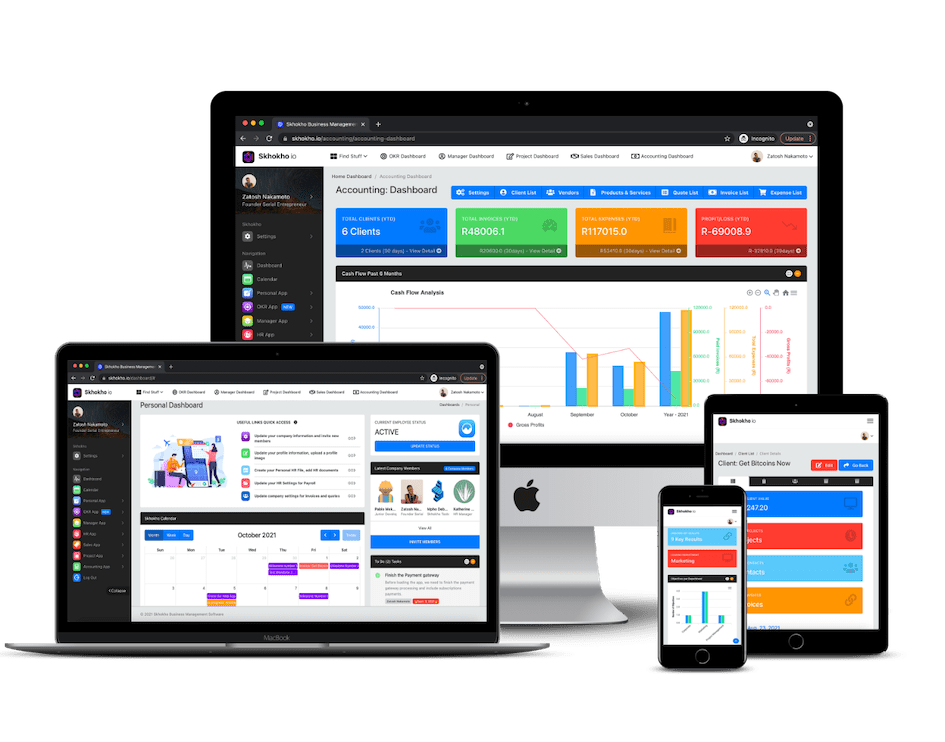 The Most Comprehensive
Business Management Software
Skhokho is a comprehensive business management software that allows users to manage most of their day to day business administration in one place. Skhokho is fully integrated, easy to navigate, friendly, and easy to use - even for beginners and non-technical people. Skhokho is intuitive and affordable, making it ideal for the small business owner.
The one-stop-shop for all your business admin, management and reporting.
We have put all your tools in one place, so you don't have to switch gears just to find the information that you need.
Collaborate better, faster and smarter with OKR Application
Forget the old, tedious way of setting quarterly and annual goals with manual spreadsheets or organized notebook piles. Let Skhokho help you collaborate with your team members to make sure everyone is actually aligned to strategy and business direction. This is the most advanced yet clear-cut system for goal setting.
OKR Dashboard
You whole team can visualise a snapshot of your current objective progress at any time.
Smart Objective Tasks
Assign tasks to your team members that are aligned to the objectives and key results set.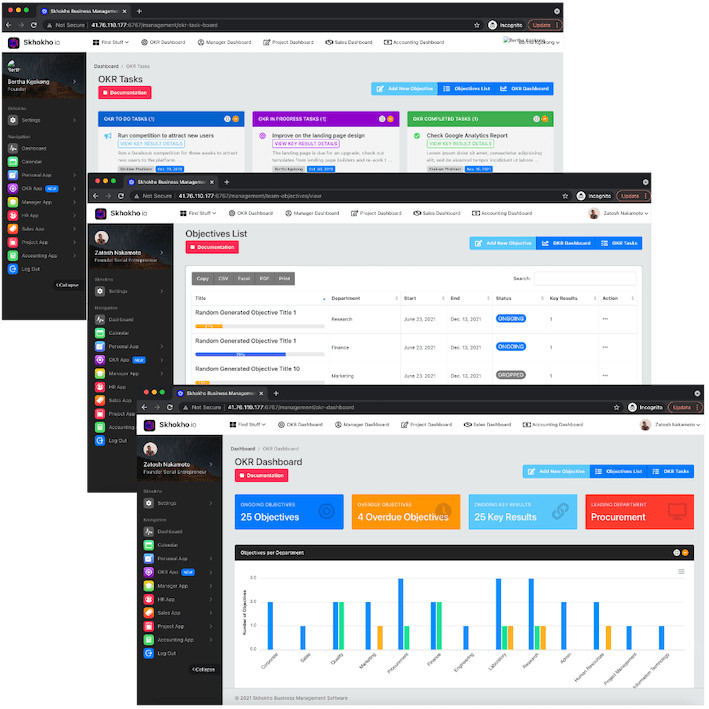 Skhokho Business Development CRM Software
Skhokho allows your Sales and Business development teams to be on the same page when following up on Leads. We call them Hustles, as you hustle to build your business, let Skhoko help you to organise your information and streamline resources.
Client Mailing Lists
Create client lists, and client groups within CRM to send custom group emails to.
Follow up on your hustle to grow your business, reminders, calendars, notes.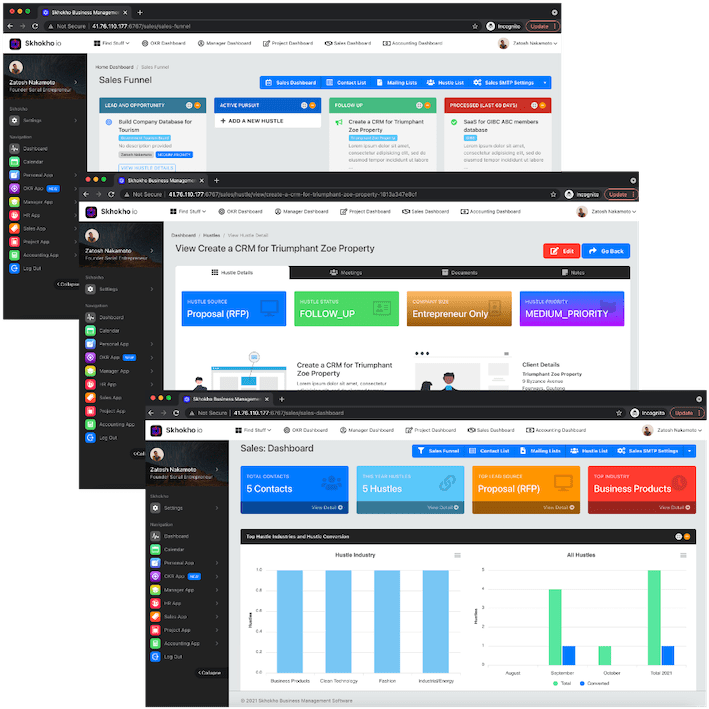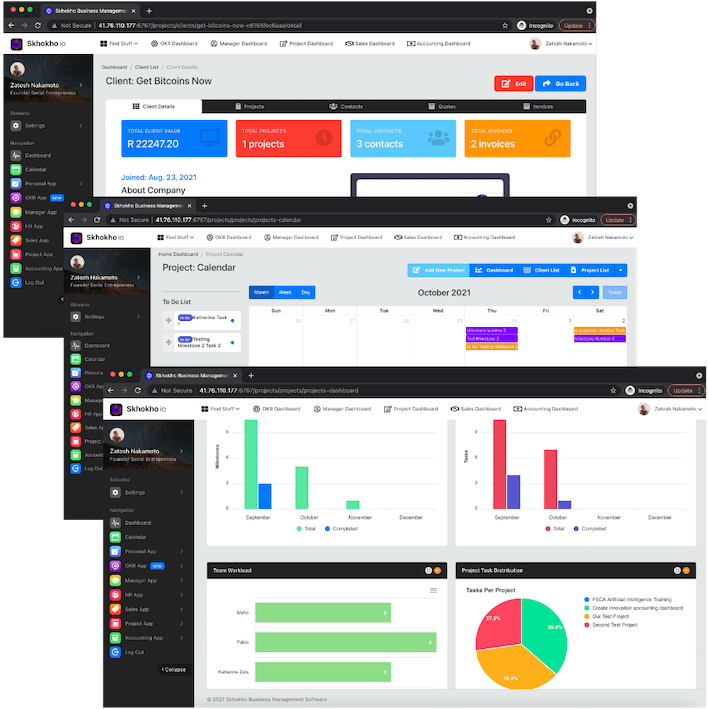 Skhokho Company Software Project Management
Project Management is a crucial part of any business operation. We simplify the day-to-day project management activities by breaking down a project in to milestones and tasks. Create milestones for projects and assign tasks to those milestones.
Project Milestone Management
Track milestones per project, assign and track reposibilies.
Project Task Management
Track project tasks per project, assign and track reposibilies.
Human Resource Process Management Software
HR Managers are going to love the HR App. Keep your employee HR files, and records in secure cloud servers - while maintaining strict access control. Manage leave, HR policies and much more from the HR Application. Get more done with our human resource process management software
Leave Management
Apply for leave, track leave applications, approve reject leave.
Manager Module
Invite new members to team, assign team tasks and responsibilities.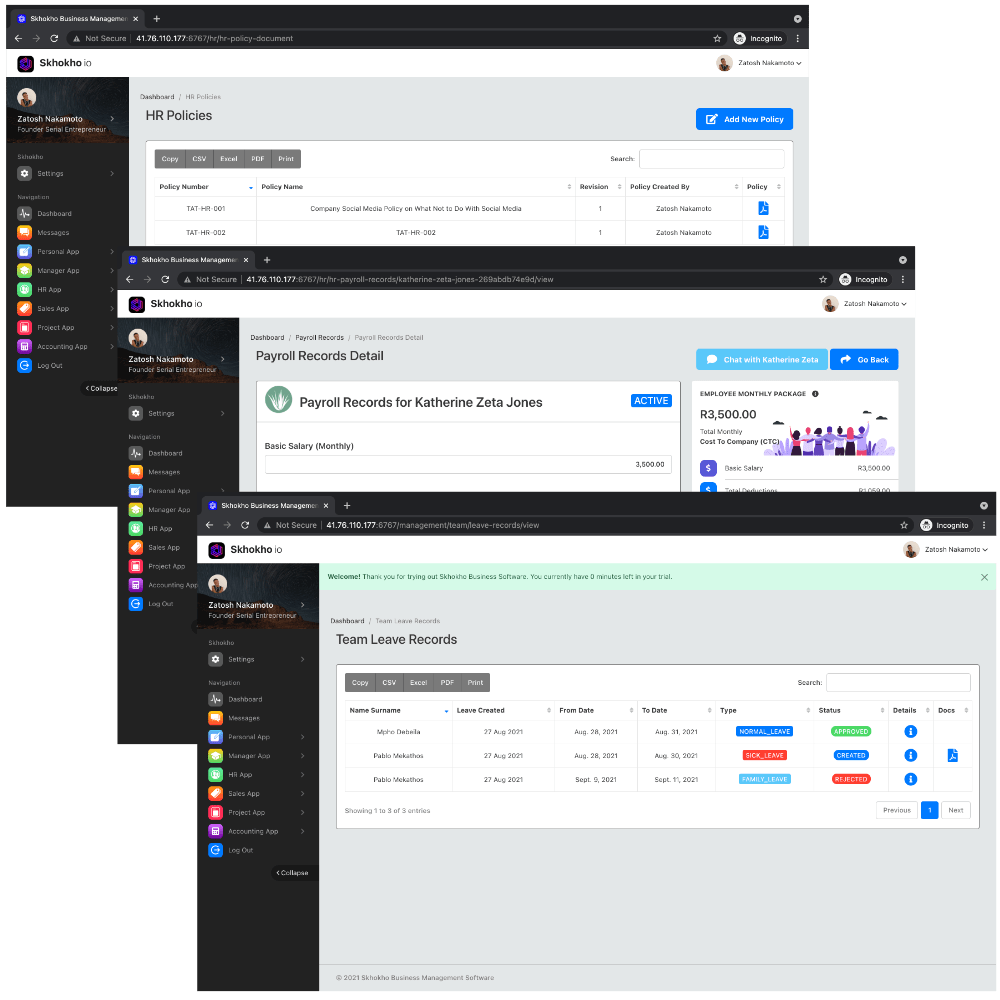 What people say about us!.
Don't just take our word for it, check out our clients reviews and what people say about our Software.
Skhokho has taken a huge weight off my shoulders regarding the daily running of my practice. Particularly, with managing my client information and generating invoices.
It's very user friendly and also comprises of many different features, a sort of one stop shop.
I love the Hustles, I do a lot of sales calls visiting clients at specific sites and I needed an admin solution for all that.
Our clients used to ask us, where is our data stored and we would have no answer. These days, there is a clear answer - everything in one place.
The team collaboration you have been waiting for all these years.
Skhokho is ideal for team collaboration and preserving of important company documents, files, communications, decisions, and responsibilities.
Document Management
Replace generic document storage with custom, entity specific document management. Preserve document files within their specific project instance for easy access and collaboration between team members.
Company Notes
Create unique, specific and meaningful notes and associate them with a client, project or activity. Create notes in rich-text format, to preserve ideas and communicate concepts across the different departments and project teams.
Meetings Management
The first company management software to help track meetings and meeting actions. Keep records of business meetings associated with projects and business development, tracking meeting actions as tasks.
integrated Tools
Intergrate across your business, communicating and maintaining the same data and records across departments and project teams to promote efficiency and collaboration, while maintaining strict access control.
Accounting Software for Small Businesses
Skhokho is designed to meet the needs of all types of small businesses. It can be used for invoicing, quotes and expenses—everything you need to manage your business in one software. Skhokho delivers a powerful accounting app that provides small businesses with a complete view of their every-day financials, in an easy to understand interface that every business owner can use.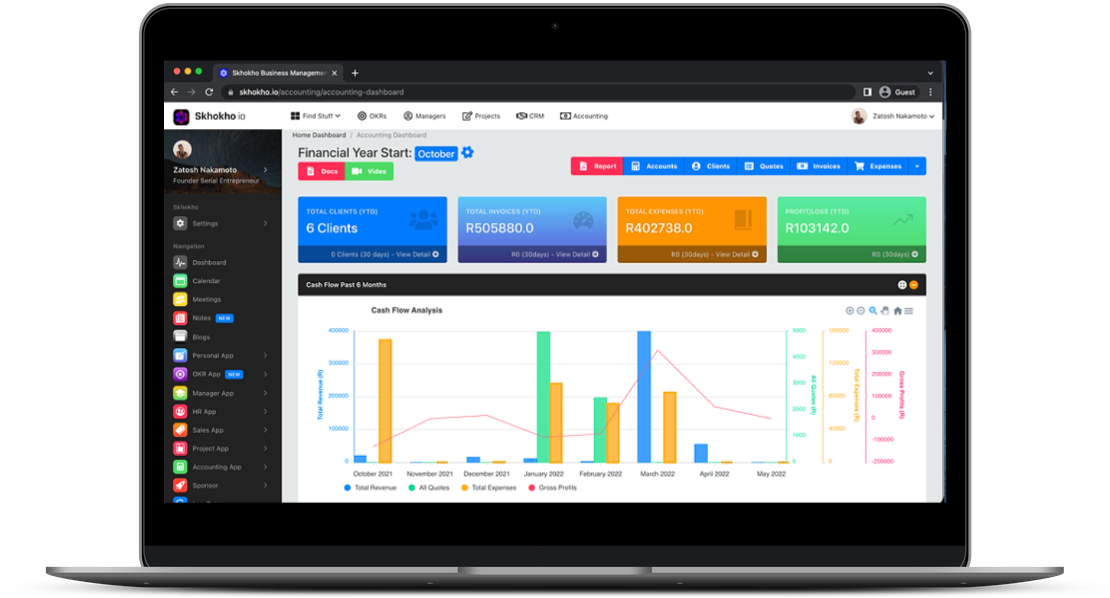 ---
Project Management Client Access Portal
Skhokho's project management app comes with a built-in online tool that makes it easy for project managers to give their clients secure, direct access to crucial project information, documents, and invoices via the Skhokho client portal. Sending invites to clients is as simple as emailing them a login link. With this secure platform, you can work with clients from anywhere, at any time.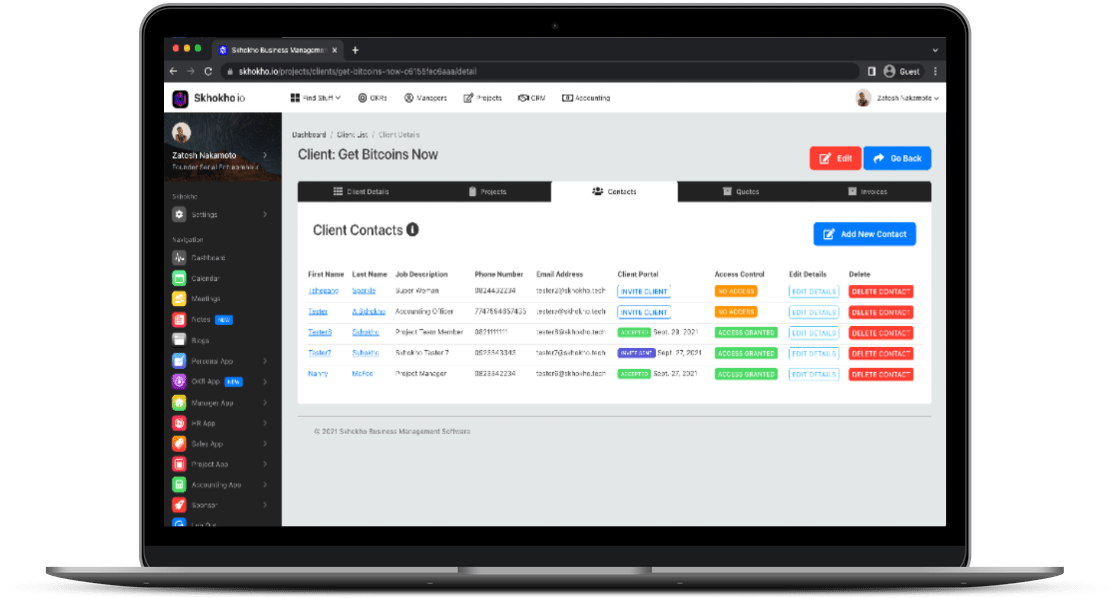 Meeting Management Software
Skhokho is perfect for you. Save time and energy by using Skhokho's functionality as an all-in-one meeting management software. Schedule meetings, send meeting invites, record action items during the meeting, and send out minutes of the meeting directly to the attendees after the meeting. Skhokho is your solution for innovative, collaborative meeting planning that will help you and your team stay on track with scheduling and organizing all of the details.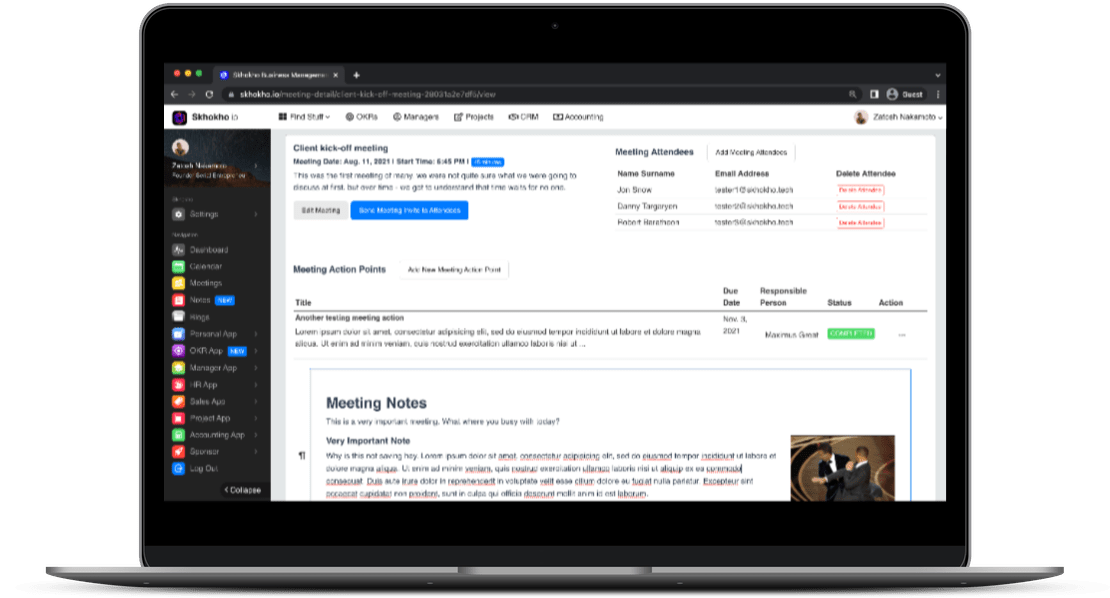 Get your own White Label SaaS Reseller Software.
Get your fully funtional multi-tennant white labelled SaaS in a few weeks of weeks not the years it would take you to develop your own.
We use industry standards in development and deployment to ensure maximum uptime for your white label SaaS.
Skhokho will be responsible for fully managing your White Label SaaS product. We ensure your software is up 99% of the time.
Let us take care of the white-label details, application up-time, security, performance and scaling the software so you can focus on your business.