The importance of effective business management
To run a business successfully, you need to be able to manage your staff. Business and management are two sides of the same coin. It's important to manage your business in the right way.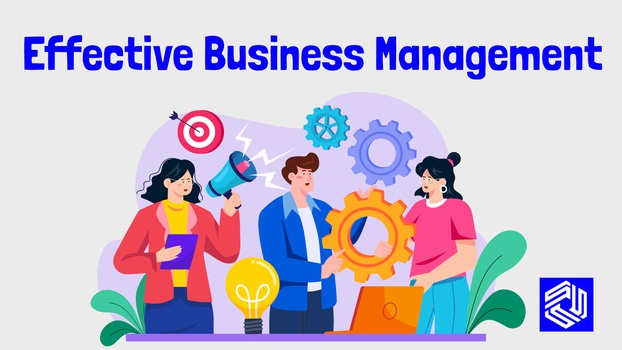 We will focus on the following:
The Relationship Between Business and Management
The Importance of Effective Business Management
Organizing Business Management Efforts
Introduction to business management software
Choosing the right software
Types of Softwares needed
The Relationship Between Business and Management
It is very important to understand each term before attempting to understand how they relate to each other. Business is the term used to describe all commercial activity within an economy. All types of businesses are included, from sole proprietorships to multinational corporations. The management process involves organizing, leading, controlling, and monitoring the resources of an organization.
Businesses require managers to operate effectively, but they also require management to succeed. In order for a business to achieve its full potential, effective management is essential. To make informed decisions about how to manage a business, managers must have a thorough understanding of the business itself. The two are inseparable.
The relationship between business and management is essential for the success of any organization. Businesses need managers to plan and organize activities, set goals and ensure that resources are used efficiently. Managers need businesses to provide the resources and opportunities necessary to achieve objectives.
The relationship between business and management is symbiotic. Businesses need managers to function effectively, and managers need businesses to provide the resources and opportunities necessary to achieve objectives.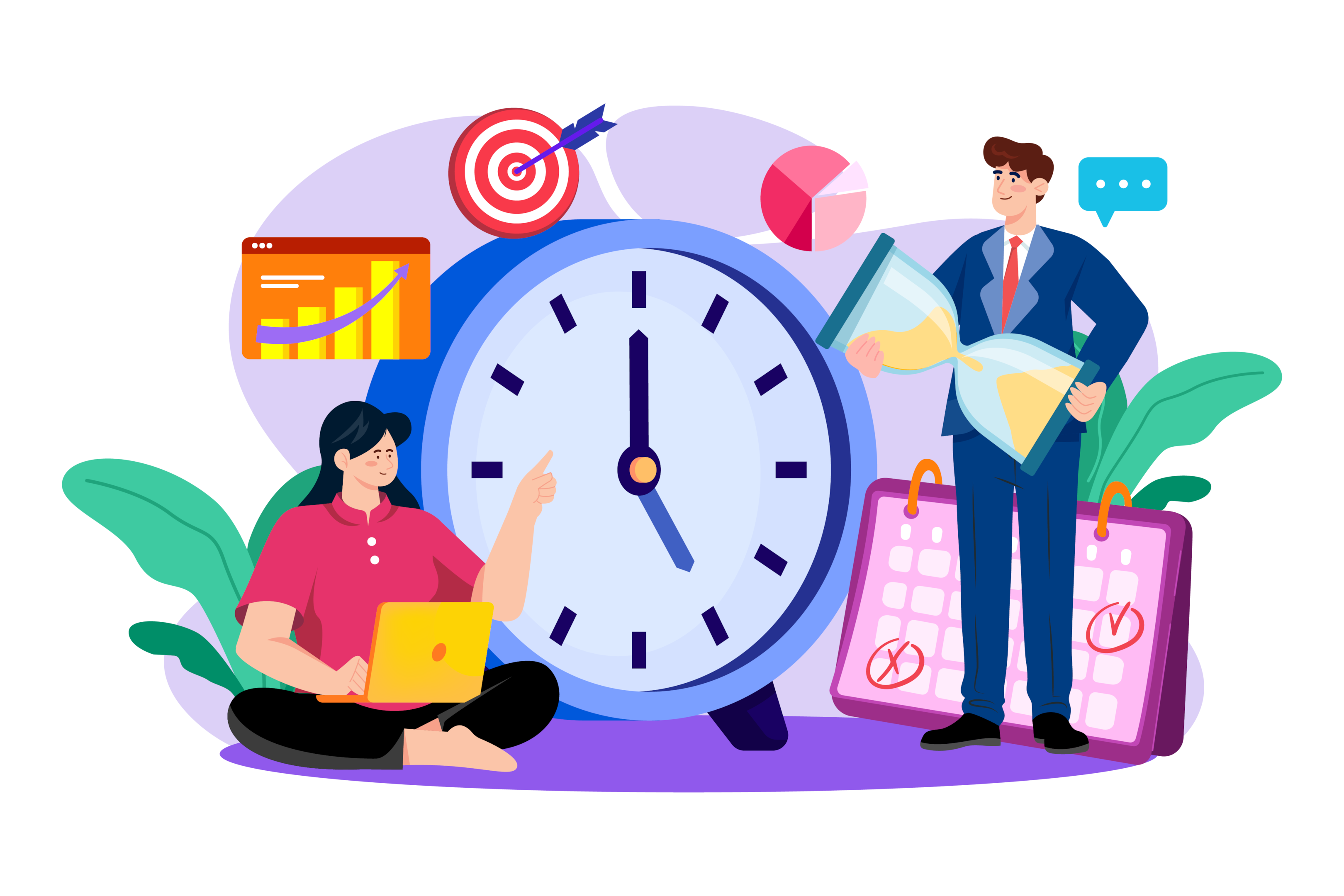 The Importance of Effective Business Management
Effective management of businesses is crucial for a number of reasons. First and primarily, it promotes effective operation of businesses. Furthermore, efficient business management enables organizations to respond to market developments swiftly and effectively. This is more crucial than ever in the quick-changing, fast-paced world of today. Moreover, through increasing efficiency and profitability, effective management techniques assist organizations in keeping a competitive advantage.
Organizing Business Management Efforts
Managing human resource management requires many strategies. In general there should be a clear definition of roles in every department of a company. It helps everyone understand the roles within the organization and can collaborate easily. Another important strategy will include developing software for monitoring the performance of workers. This may help determine areas in which workers need improvement and give suggestions on how the company can improve. The information may also help reward people who have met or exceeded their expectation.
Choosing the Right Software
There is no single answer to this question as the best software for your needs will depend on a number of factors, including your budget, the complexity of your project, and your own personal preferences. However, there are a few general tips that can help you choose the right software for your needs:
1. Do your research
Before making any decisions, it is important to do your research and compare the different options available. This will help you narrow down your choices and find the best software for your needs.
2. Consider your budget
Your budget is likely to be one of the most important factors when choosing software. Be sure to consider the cost of the software itself, as well as any associated costs, such as training or support.
3. Get recommendations
If you know someone who has used software for a similar purpose, ask for their recommendations. This can give you a good idea of what is available and what might work best for you.
4. Try before you buy
Where possible, it is always a good idea to try out the software before you commit to buying it. Many companies offer free trials, so you can test out the features and functionality to see if it is right for you.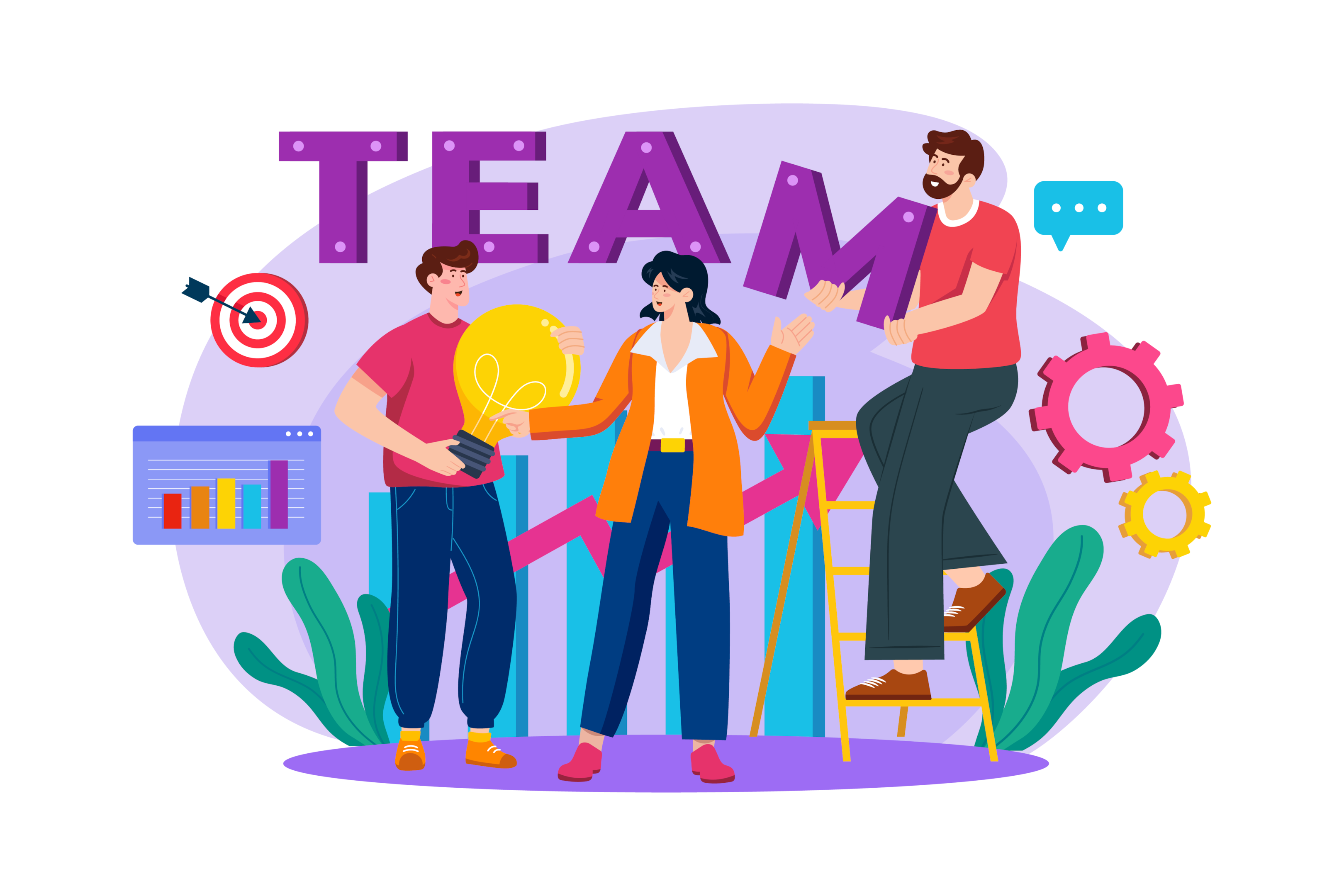 Types of Softwares needed
Business management software is a type of software that helps businesses manage their operations, including customer relations, employee records, finances, and inventory. This software can be used to streamline and automate many of the tasks that are essential to running a business.
There are many different types of business management software available, and the right software for your business will depend on the specific needs of your company. Some common features of business management software include:
Customer relationship management (CRM):
CRM software helps businesses track and manage their customer relationships. This software can be used to store customer contact information, track customer interactions, and manage customer service and support.
Example: Oracle - It makes every customer interaction matter by connecting all your business data across advertising, marketing, sales, commerce, and service. You have to pay STARTING FROM $0.0980/hour for cloud.
Employee management:
Employee management software helps businesses track employee records, including contact information, job titles, and salary information. This software can also be used to manage employee scheduling, time off, and benefits.
Example: Monday.com - The employee management software built to drive HR impact. Pricing starts from Total $24 / month.
Financial management:
Financial management software helps businesses track their finances, including income, expenses, and invoices. This software can also be used to manage payroll and tax information.
Example: Sage - it offers a wide range of innovative software solutions for managing your accounting, payroll, and more. Pricing ranges from R185 incl. VAT per month to R3 825 incl. VAT per year.
Inventory management:
Inventory management software helps businesses track their inventory, including product information, stock levels, and supplier information. This software can also be used to manage order fulfilment and shipping.
Example: Xero ZA - this software keeps track of what's in stock with inventory software. pricing Starter is $11.
Skhokho Accounting & Business Management Software
Skhokho is a comprehensive business management software that allows users to manage most of their day to day business administration in one place. With Skhokho, even beginners and non-technical people can easily use it because it is fully integrated, easy to navigate, and friendly. The simplicity and affordability of Skhokho make it ideal for small businesses.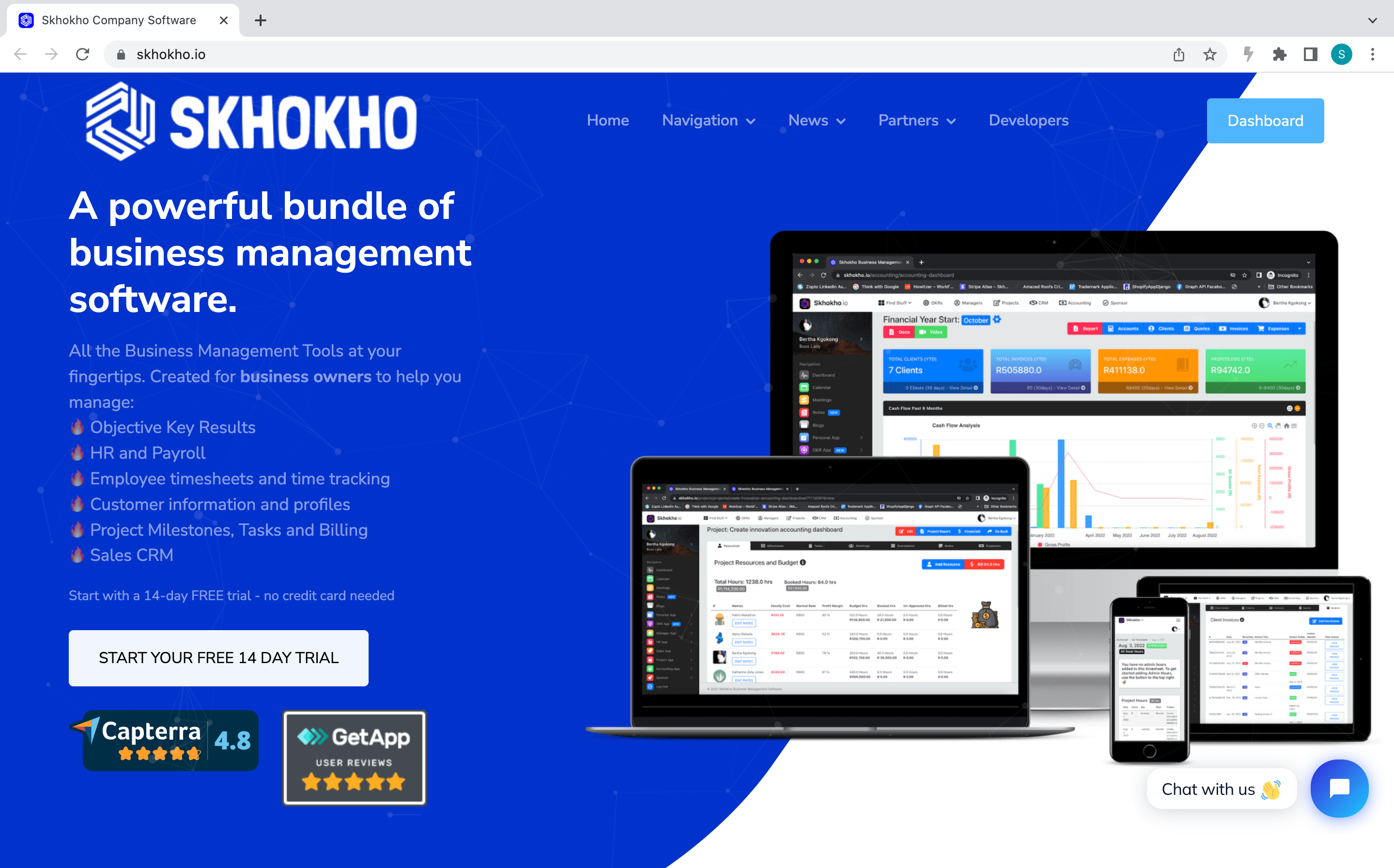 These software is designed to help you with:
Objective Key Results
HR and Payroll
Employee timesheets and time tracking
Customer information and profiles
Project Milestones, Tasks and Billing
Sales CRM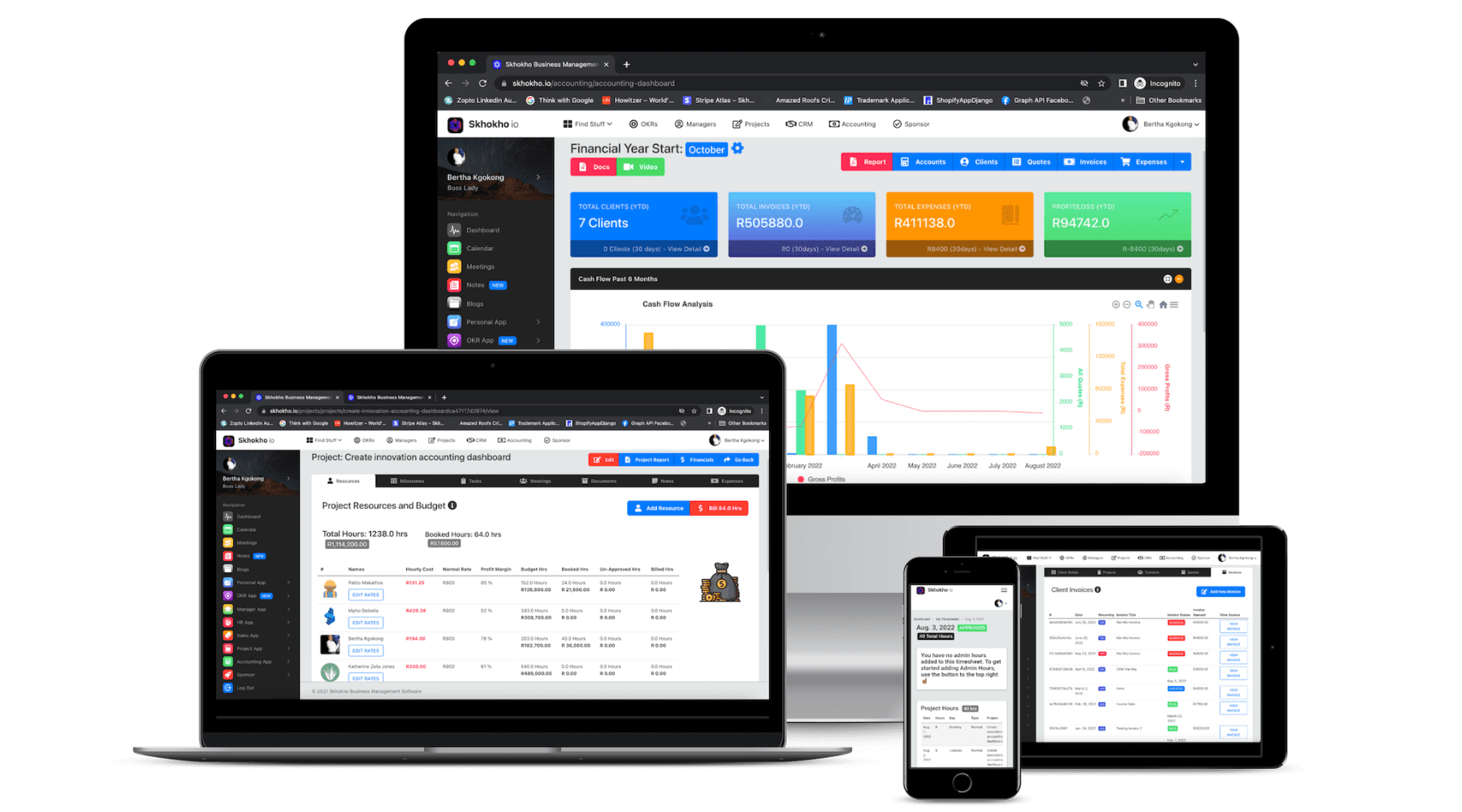 It has the following apps integrated:
Project Management App - It allows you to manage your all your projects, project teams, tasks, meetings and documents with one tool
Sales and CRM App - With the top CRM software like Skhokho, you can manage sales leads, streamline resources, and organize your business development.
Human Resources Management App - With Skhokho Human Resources App, you can easily manage your human resources on the cloud. Organize all your HR information in one place. A single location for managing employee files, payroll, leave records, and benefits. Free up time by automating repetitive tasks. Maintain control over company policies, and track the number of employees who accept and read them.
Accounting App - A small business can handle their invoices and expenses with a cloud-based accounting and company management software.
OKR App - Skhokho OKR App assists your organization in moving toward its objectives in a cooperative, clever, and efficient manner.
Personal App - The personal app is the central place for every app user to manage the following: Tasks assigned to them by their line managers and project teams, HR File, employee records, Leave records and applications, Payslips and HR Policies.
Manager App - The manager app was created for departmental managers who are in charge of overseeing departments and/or projects that have employees reporting to them. Like the business owner, the manager can extend an invitation to the team. Manage your team, invite new members and change permissions members in your team have. The following are features currently available for managers:

View all the tasks in the department, assign new tasks to team members, delete tasks and move tasks around the board
View employee HR records (limited view)
View leave applications, approve or reject leave submitted by team members
Approve, or decline team timesheets
View team expenses and approve or decline

Skhokho Integrations - Integrate Skhokho to your favourite applications. Developers can use the secure API with RESTful JSON endpoints to connect with Skhokho. Along with being secure, Skhokho has native integrations with Google Calendar, Zapier, and the Skhokho API. With Zapier, you may link Skhokho to any one of the many other applications that are supported by Zapier.
Get started today, register an account and take advantage of your 14 day free trial.
To register: https://skhokho.io/register
For a documentation on how to use the system: https://skhokho.io/documentation/guide/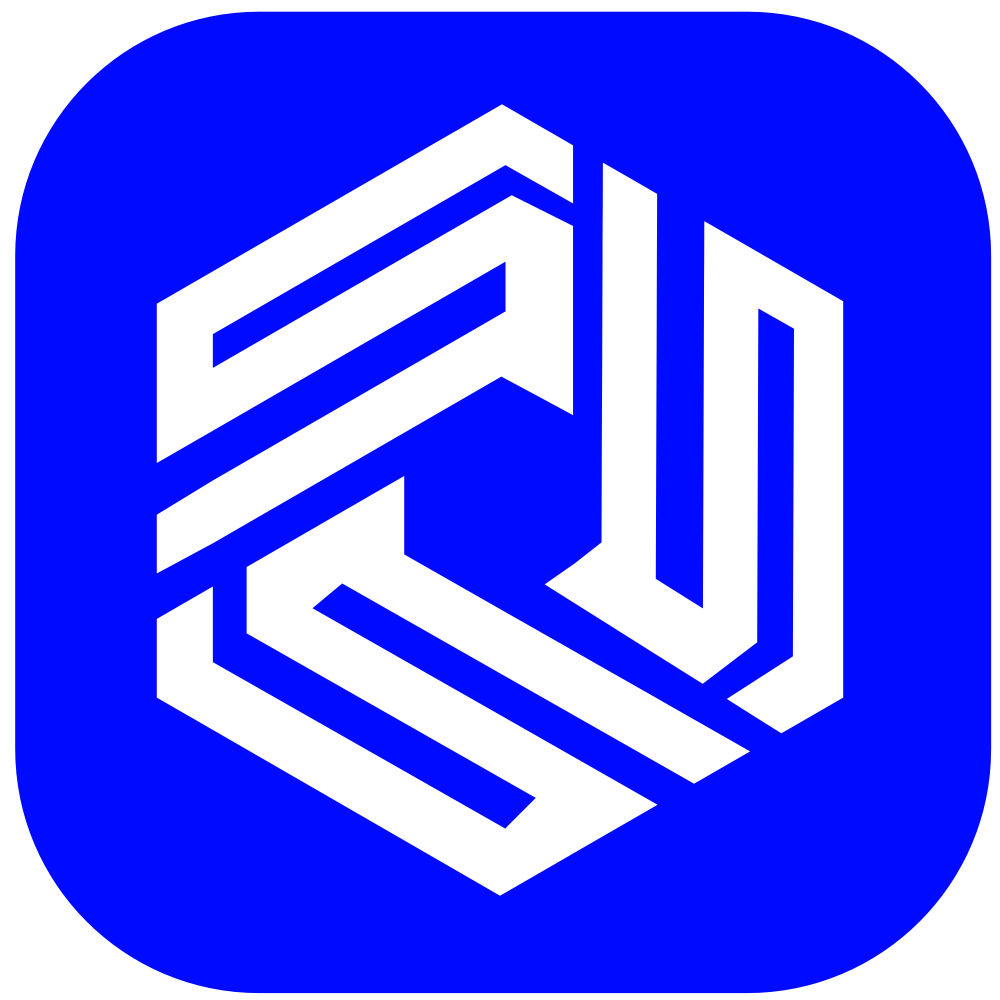 Bertha Kgokong
Published on Nov. 1, 2022