When small businesses are looking for software, they may find that the cost of SaaS software is too high. However, every small business needs the basic tools for running their day to day tasks like:
Human Resource Management - tools to help you keep track of your employee records, files, leave and payroll
Goal setting and KPI - tools to help you with a business wide goal setting process of creating and tracking goals
Project Management - tools to allow your team to collaborate on projects, keep track of project progress and milestones
Accounting Software - tools to help your business keep track of the finances, measure and record inflows and outflows of revenue
CRM - a tool to help you keep track of your clients and sales leads in one place
The cost problem
Currently, a small business must buy four different software to be able to accomplish all the above tasks. This can get costly for a small business just starting out.
| | | |
| --- | --- | --- |
| HR Software | R28 per user per month | https://sage.hr/pricing |
| Project Management Software | $24 per user per month | https://www.wrike.com/price/ |
| Accounting Software | R119 per month | https://quickbooks.intuit.com/za/pricing/ |
| Sales and CRM | Euro25 per user per month | https://www.salesforce.com/eu/solutions/small-business-solutions/pricing/ |
| Goal Setting OKR Software | $15 per user per month | https://gtmhub.com/pricing |
Total - approximately ZAR 1146 which is the equivalent of $78 per user. Very important to note that these prices are "per user per month", which means you need to multiply them by the number of users you have in your company.
With these prices, it is no surprise that small business revert back to spread-sheet management and keeping records in inboxes and scattered dropbox accounts and google drive folders.
Introducing Skhokho Affordable Business Software
Affordable Business Software provides all of the features and functions needed by small business owners at an affordable price. Skhokho Affordable Business Software has everything you need to grow your company without breaking the bank!
Our approach is to provide small businesses with just the right tools, from years of experience and research - we have compiled the most useful functions of a small business in one intuitive and easy to use platform.
If you're a small company, this is the ideal Business Software solution for you, you will get all the useful features that you need without breaking the bank.
Get started with Skhokho.
Applications that come with Skhokho Business Management Suite
Human Resource Management
Manage all your employee records, HR files, leave management, team task mangement, run payroll and issue payslips to employees with this HR Software tool. HRM software is included in the basic package for Skhokho which starts at $20 per month for up to 3 users.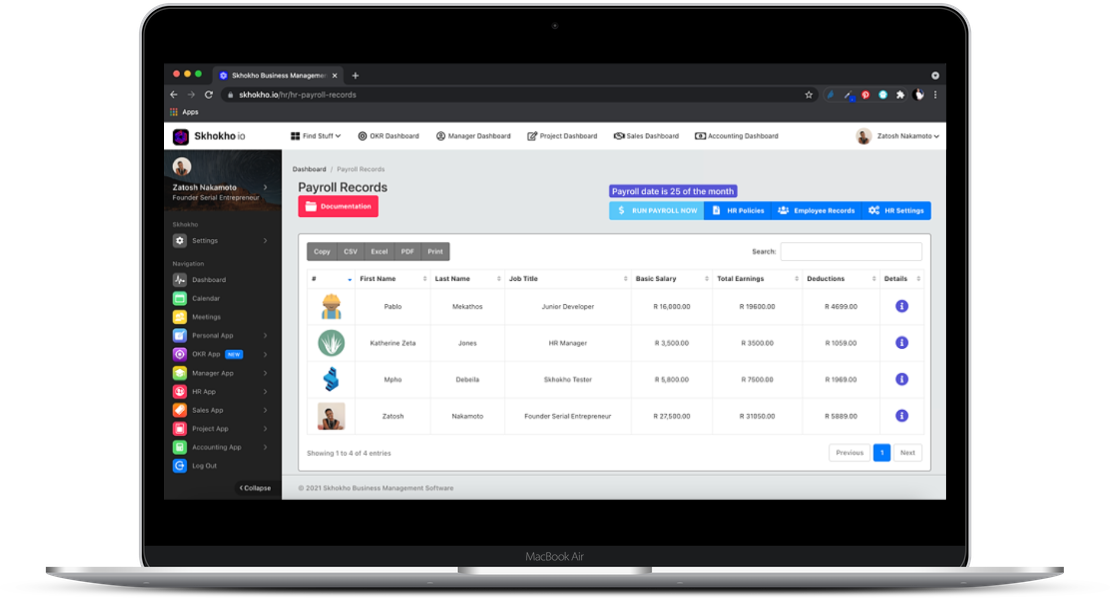 Goal Setting with OKRs
OKRs are an goal setting method that is used by some of the world's leading organisations such as Google and Amazon. OKRs are also included within the basic package for Skhokho which costs only $20 per month for up to 3 users.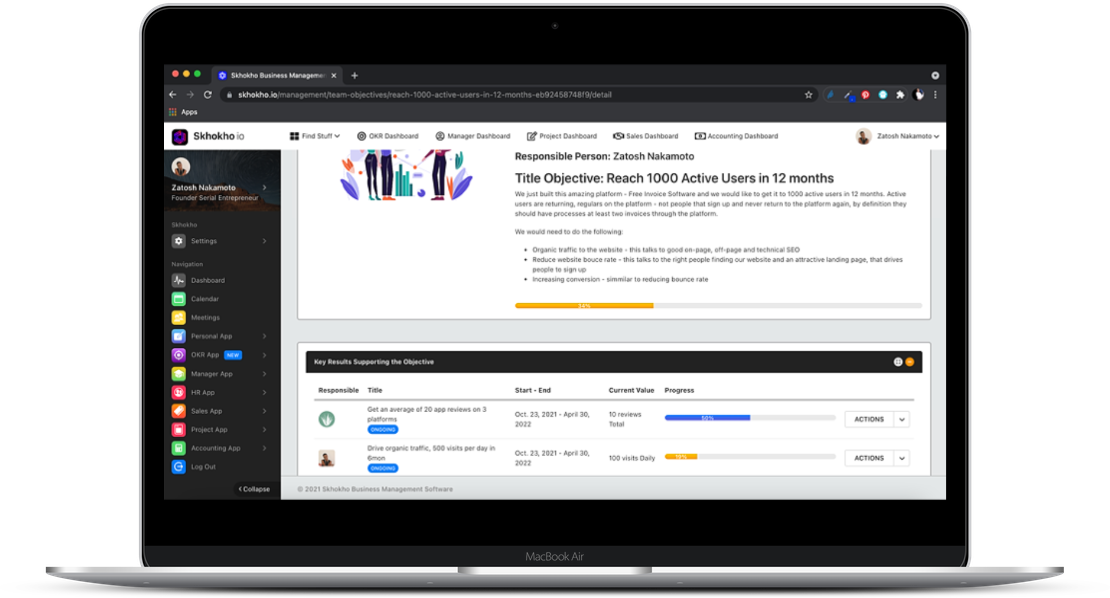 Meeting Management
skhokho one of the first, and few SaaS products that intergrates meeting management within a Business Management tool. Stop tracking meeting minutes in spreadhseets and scattered minites of meeting templates that get lost and misplaced. With skhokho, you can track all you meetings in one place and track: meeting attendees, action items and discussions points.
Send invites to attendess and minutes of meeting, directly from meetign dashboard with just one click.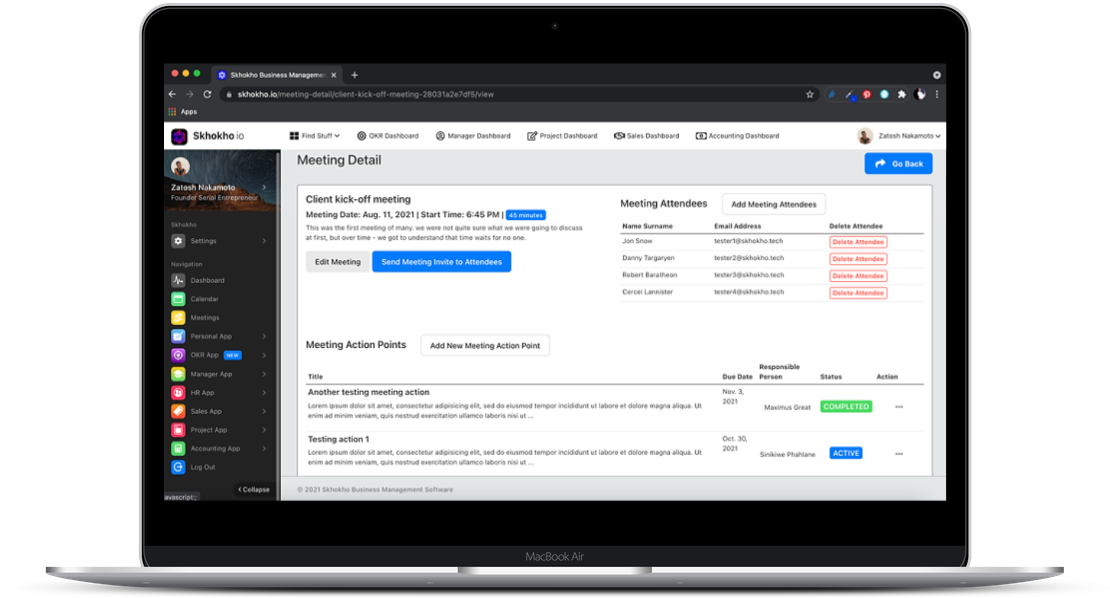 Accounting Management
Accounting software functionalities include: Invoice, quote and expense management. Accounting dashboard, tracking sales for business products and services and much more. Accounting software is included in the business package - tier 2 which starts at $28 per month for up to 3 users. Note that HRMS and OKR are already invluded in the Business Package and do not come at an extra charge.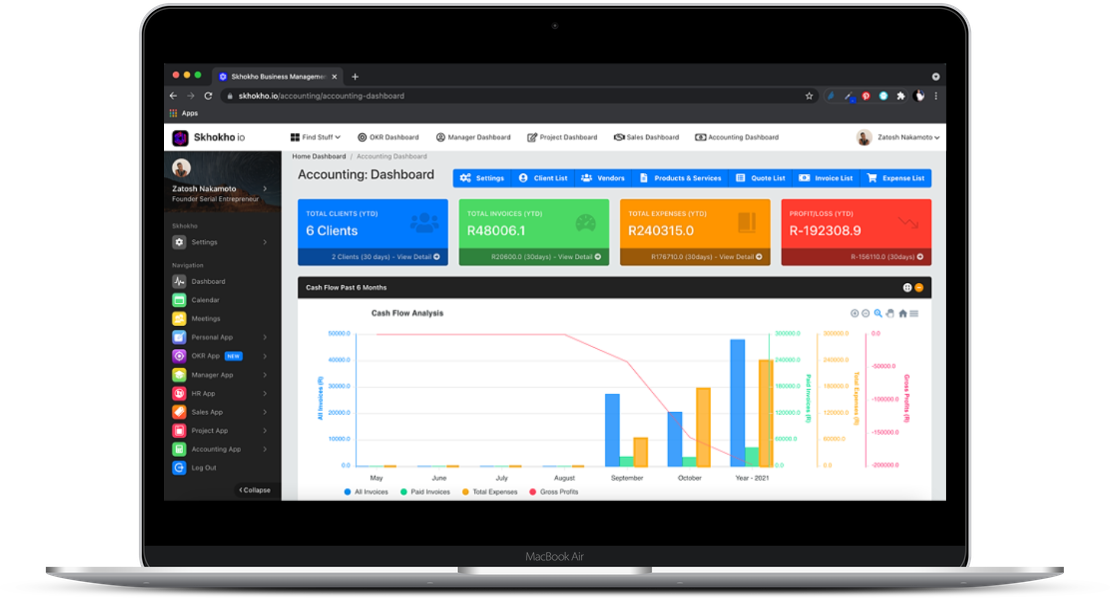 Project Management
Project management software comes with the following functionalities: Ability for teams to collaborate on projects, track milestones and tasks. Client access portal for projects, so clients can view project progress, documents and meeting notes. Project meetings and documents.
The project management app is included in the business suite, together with the accounting app. They are intergrated, meaning you can assign invoices to clients and projects uploaded from the project app and display revenue and invoice information within the project app.
The price for business package is still $28 per month for up to three users - this includes both Accounting and Project Management applications.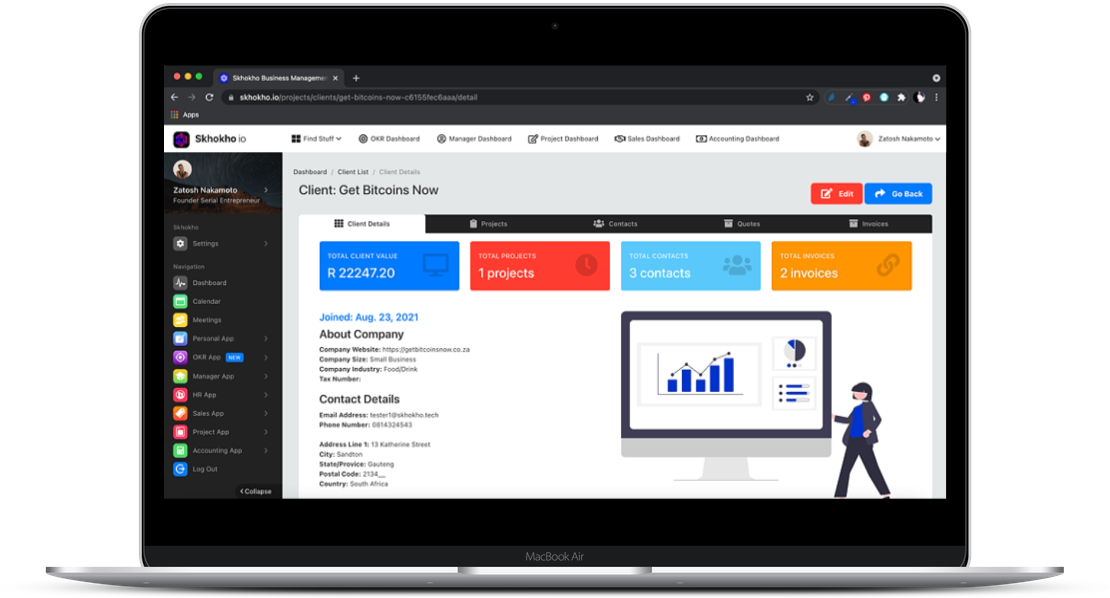 Sales and CRM
Sales and CRM app provides the ability to record and track clients for the business. Build client lists and divide in to mailing groups that you can send group emails to on a regular basis directly from CRM.
Track leads across the sales pipeline, record meetings and notes associated with leads. Sales dashboard gives a snapshop of the current state of affairs within the Sales team.
Sales and CRM app are included in the Business Plus package which starts at $40 per user per month. This package includes everything in Skhokho suite of applications and is the premium package on Skhokho.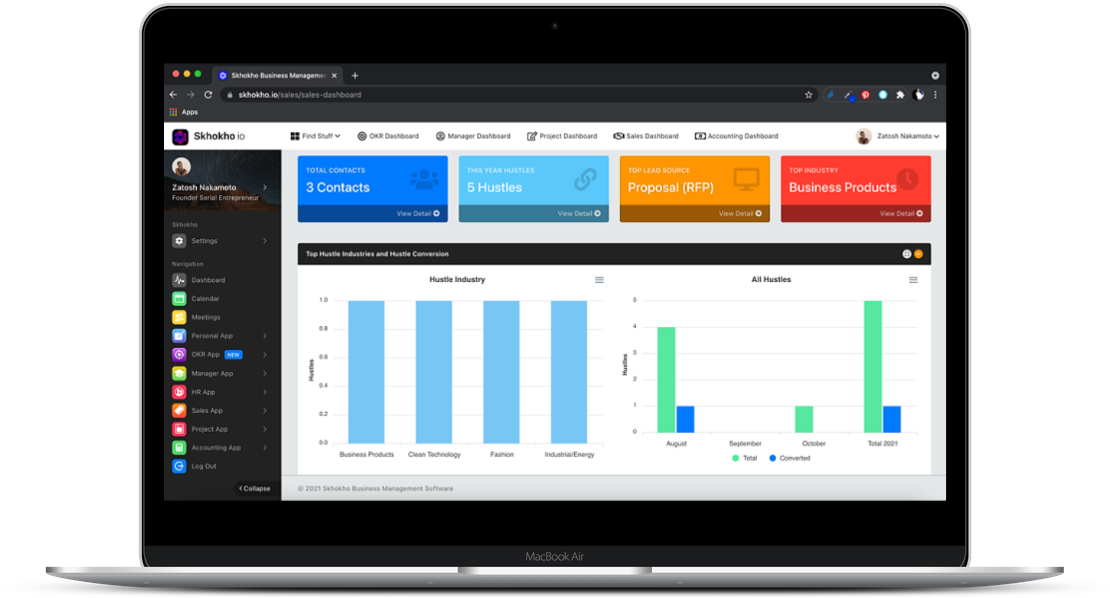 Skhokho Pricing
The pricing table for skhokho, showing all the features and prices is shown below. Get started by registering for a 14 day free trial.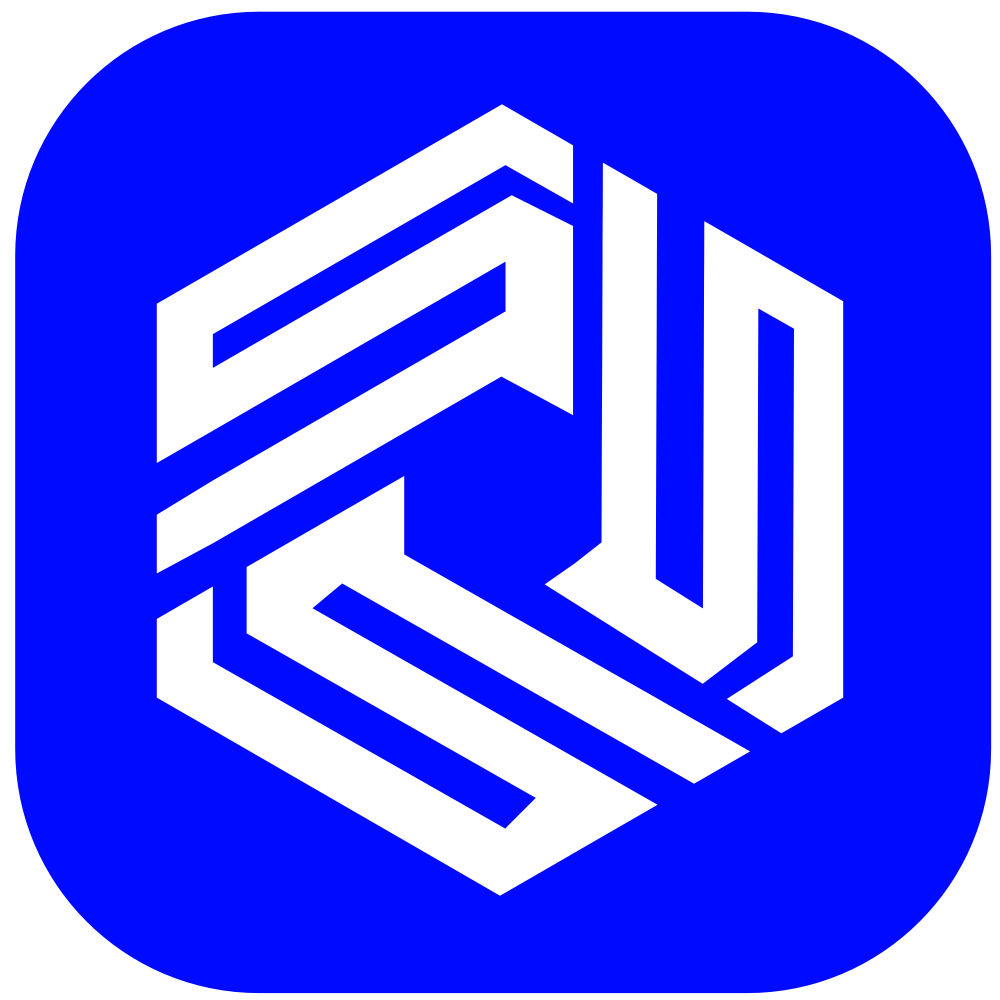 Bertha Kgokong
Published on Oct. 27, 2021