Keep Track of All Your Meetings, Invites and Minutes in One Place
Keep track of all your meetings, invites and minutes in one place! Organisations can no longer afford to lack control over their meeting minutes, whether it be a boardroom meeting or a staff meeting. Meeting records are an important part of the decision-making process and need to be organised in one place for easy access. This blog post will explain how organisations can keep track of all their meetings, invites and minutes in one place with Skhokho Meeting Management Software.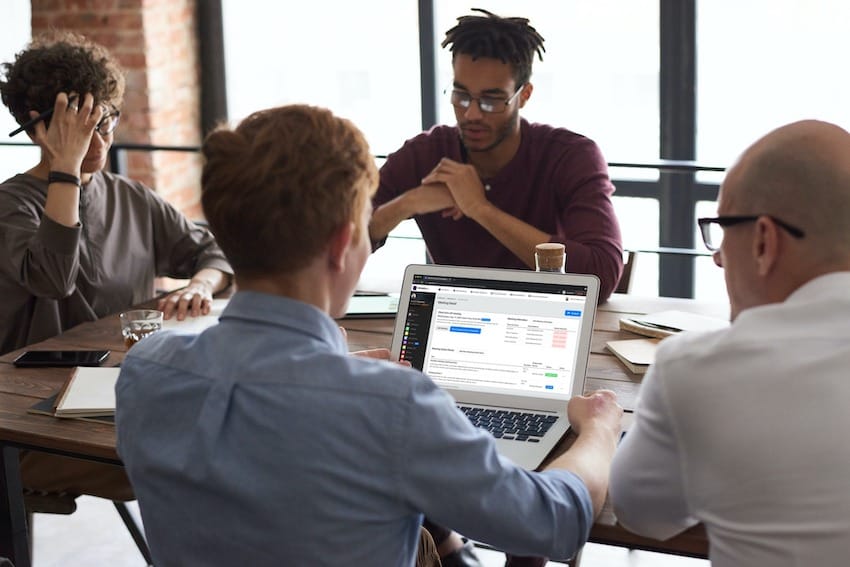 Organisations must organise their meetings in one place, managing how invites are being sent out, what is being discussed in the meetings and organising records of what was discussed in meetings for future reference. In this blog we are going to cover:
* Why you need a schedule/minute taking software
* How to get started with Skhokho Meeting Management Software
* Tracking what was discussed in meetings
* Sharing minutes of meeting with your team and clients
Why you need a schedule/minute taking software
Time is money, and when you spend time in meetings, it's easy to lose track of all the discussion points. You can't get back time that has passed, so you might as well get the most out of the time you spend in meetings.
Keeping track of meeting records is important because they are an essential part of decision-making process for your organisation or business. It allows teams to see what was discussed at previous meetings which could be beneficial if a similar topic comes up again; especially since everyone may not attend every single meeting due to their busy schedules. Keeping notes on these discussions also means employees aren't repeating themselves over and over with each other - saving valuable company resources!
Keeping records of meeting used to involve multiple meeting templates per organisation, where no one could keep track of the latest template and the documents would get lost after the meeting, when people leave the organisation or just after some time down the line.
All of this can be resolved with cloud based software - where all your team members can log in and view the same minutes or meeting records at any given time. When people join or leave the organisation, the documents are still available for reference.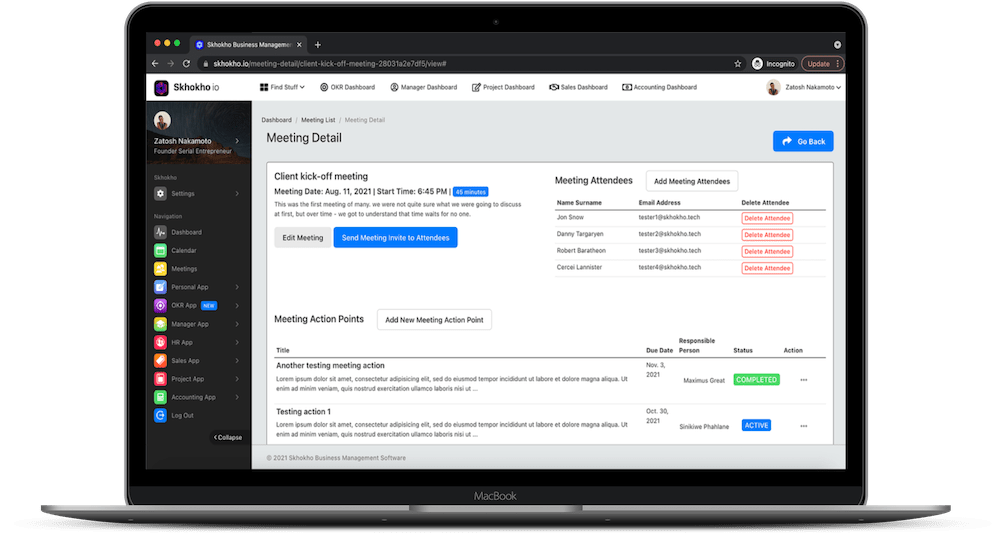 Use cases for meeting management software
Sales and CRM tracking - when you want to record and keep track of what was discussed with a client for future reference. When you are chasing multiple leads at the same time, and record keeping starts to get challenging.
Project Management - when you need to keep track of discussion points, action points from project meetings, between your team members and the client.
Management meetings - when recording important team discussions with your department and teams.
Planning and Goal Setting Meetings - When you team decides on the objectives and targets, meeting software can help keep track of the discussion points and actions.
Board meetings - keeping track of board meeting discussion, decision points and actions. Meeting software can help you with an audit trail of when the meeting happened, who attended the meeting, who received the minutes and what was minuted at the meeting.
Get started with Skhokho Meeting Management Software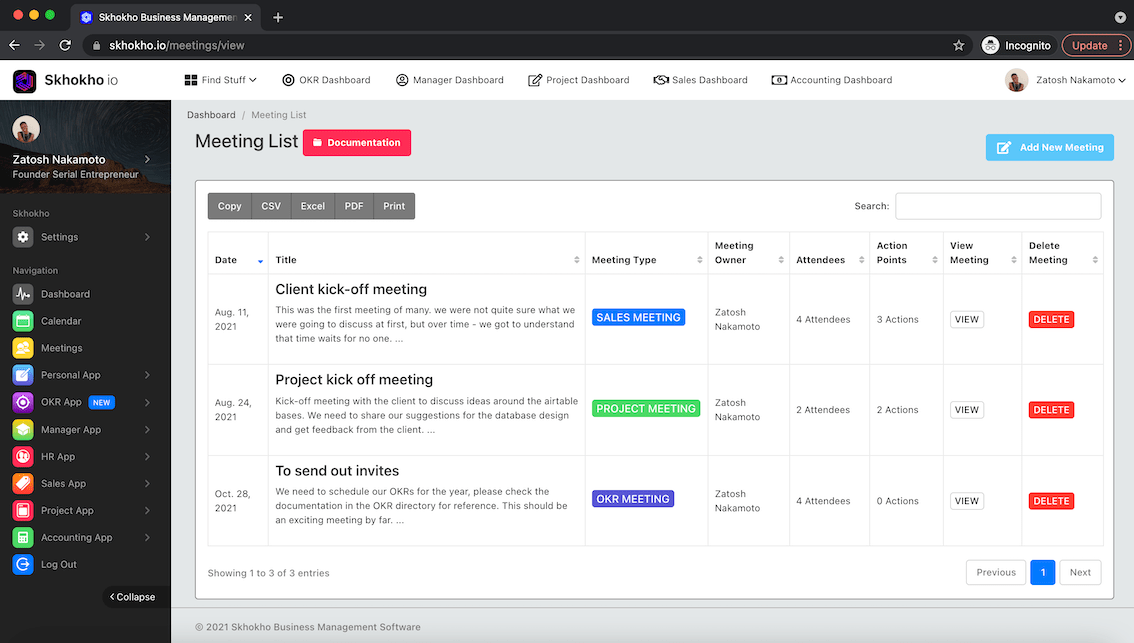 Skhokho Meeting Management Software helps you keep all of these records in one place. When you are ready to start a meeting - go to the meeting app and create a new meeting. You can then add all the attendees for the meeting, and send them an iCalendar invite, whether they are user on Skhokho or not. They will receive an email with a meeting invite they can accept, and the meeting will be stored in their calendar.
Skhokho meeting software is not a conference call software like Zoom or scheduling software like Calendly - what skhokho does is:
Allow you to plan for meetings in advance by setting a time and date for the meeting
Enable you to send meeting invites to meeting attendees from the app
Help you record the action points during a meeting, in written format
Allow you to send out pdf minutes of meeting to all meeting attendees after the meeting has taken place
Provide a safe place to store all your meeting records - so you can browse through them in future
Tracking what was discussed in meetings
Skhokho meeting management software allows you to record what we call "meeting actions". It is advisable to do this, during the meeting as the actions are being mentioned. Alternatively you could go through meeting recording you have made and note the meeting actions.
Once you record an action, you then need to: (1) assign a responsible person for the action and (2) the due date when the action must be completed.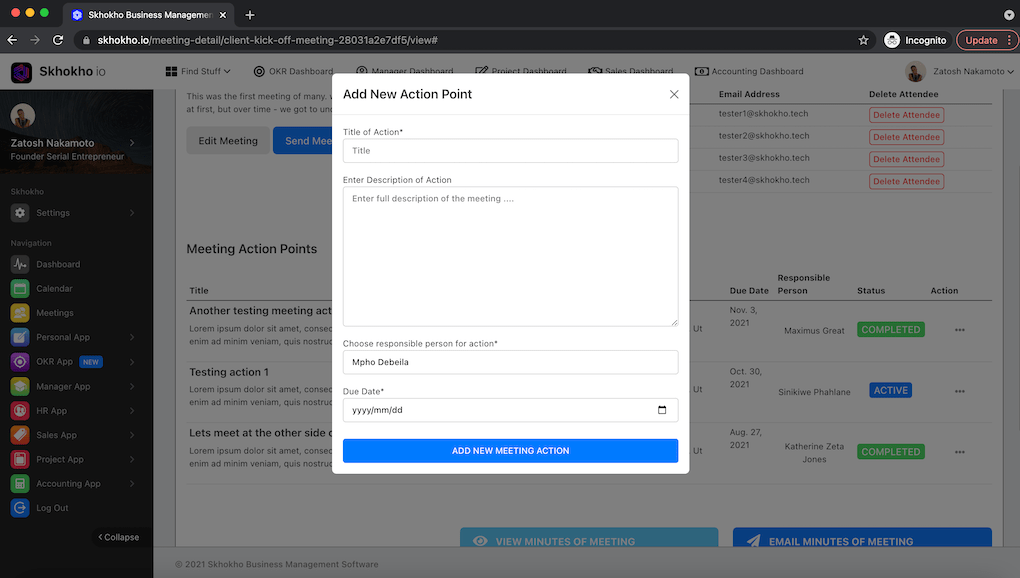 Meeting actions have two status points - they are created and ongoing, or completed. When a meeting action has been completed, the meeting organiser should mark it as completed in the minutes of meeting.
Sharing minutes of meeting with attendees
From Skhokho Meeting software, you can share minutes of meeting directly with attendees with a one-click button, where a PDF document of the minutes will be immediately sent out to everyone who was recorded as a meeting attendee.
Meeting attendees who are members of the organisation on Skhokho can also see the minutes of meeting inside of their meeting app. They can view and download the minutes anytime in future.
Sign up for Skhokho Meeting Software
Skhokho meeting software comes bundled with Skhokho suite of multiple business applications designed for companies on the go. The basic package of $20 comes standard with generic meeting app, with all the functionalities described above.
Sign up for a free, obligation free trial here and test out Skhokho Meeting Management App today.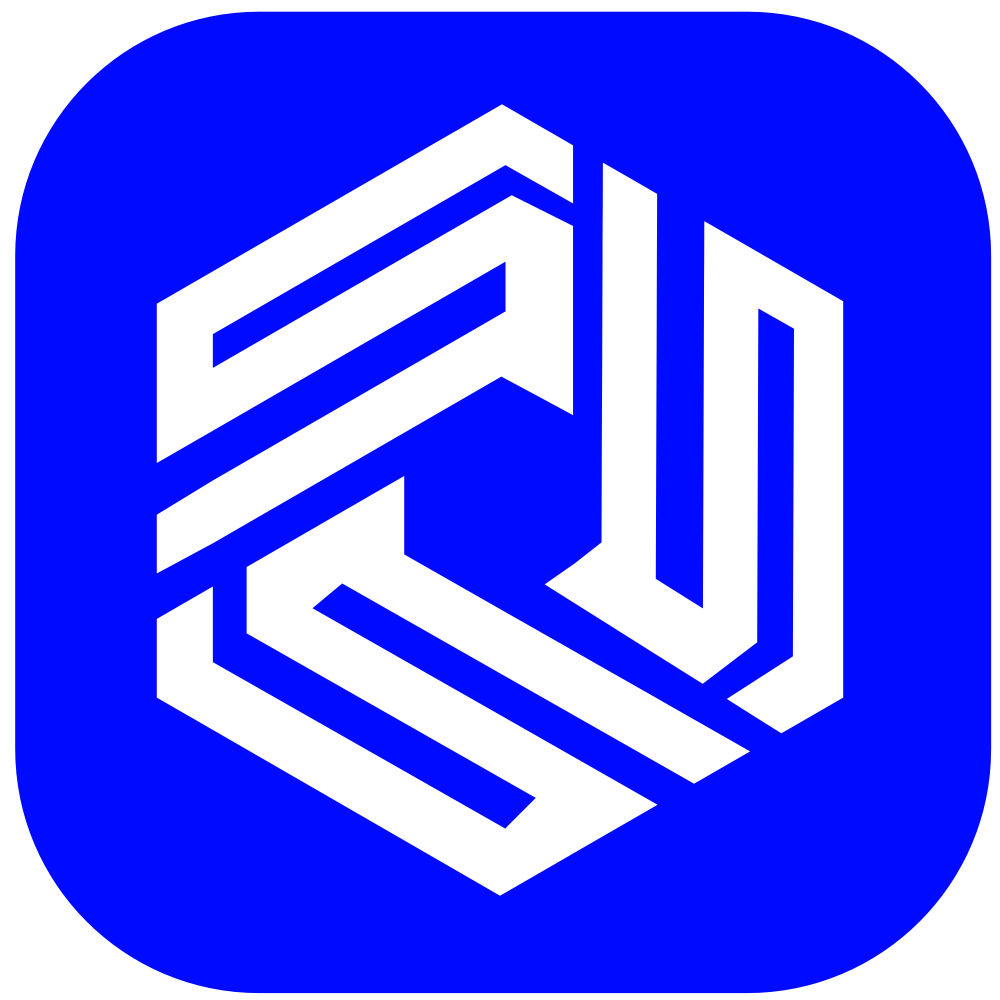 Bertha Kgokong
Published on Oct. 22, 2021